Two days into one cost driver £90
17th December 1971
Page 25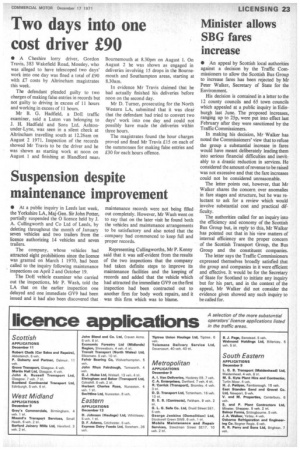 Page 25, 17th December 1971 —
Two days into one cost driver £90
Close
• A Cheshire lorry driver, Gordon Travis, 383 Wakefield Road, Mossley, who was alleged to have telescoped two days' work into one day was fined a total of £90 with £7 costs by Altrincham magistrates this week.
The defendant pleaded guilty to two charges of making false entries in records but not guilty to driving in excess of 11 hours and working in excess of 11 hours.
Mr B. G. Hadfield, a DoE traffic examiner, said a Luton van belonging to J. H. Hadfield and Sons Ltd, Ashtonunder-Lyne, was seen in a silent check at Altrincham travelling south at 12.26am on August 2 1971. Inspection of the records showed Mr Travis to he the driver and he was shown as starting work at noon on August 1 and finishing at Blandford near4 Bournemouth at 8.30pm on August 1. On August 2 he was shown as engaged in deliveries involving 15 drops in the Bournemouth and Southampton areas, starting at 8.30am.
In evidence Mr Travis claimed that he had actually finished his deliveries before noon on the second day.
Mr D. Turner, prosecuting for the North Western LA, submitted that it was clear that the defendant had tried to convert two days' work into one day and could not possibly have made the deliveries within three hours.
The magistrates found the hour charges proved and fined Mr Travis £15 on each of the summonses for making false entries and £30 for each hours offence.