Suspension despite maintenance improvement
17th December 1971
Page 25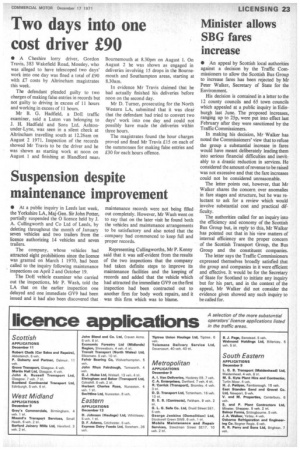 Page 25, 17th December 1971 —
Suspension despite maintenance improvement
Close
• At a public inquiry in Leeds last week, the Yorkshire LA, Maj-Gen. Sir John Potter, partially suspended the 0 licence held by J. A. Cullingworth and Co Ltd of Leeds, by deleting throughout the month of January seven vehicles and two trailers from the licence authorizing 14 vehicles and seven trailers.
The company. whose vehicles had attracted eight prohibitions since the licence was granted on March 1 1970, had been called to the inquiry following maintenance inspections on April 2 and October 19.
The DoE vehicle examiner who carried out the inspections, Mr P. Wash, told the LA that on the earlier inspection one delayed and one immediate GV9 had been issued and it had also been discovered that maintenance records were not being filled out completely. However, Mr Wash went on to say that on the later visit he found both the vehicles and maintenance arrangements to be satisfactory and also noted that the company had commenced to keep full and proper records.
Representing Cullingworths, Mr P. Kenny said that it was self-evident from the results of the two inspections that the company had taken definite steps to improve its maintenance facilities and the keeping of records and added that the vehicle which had attracted the immediate GV9 on the first inspection had been contracted out to another firm for body work repairs, and it was this firm which was to blame.