Minister allows SBG fares increase
17th December 1971
Page 25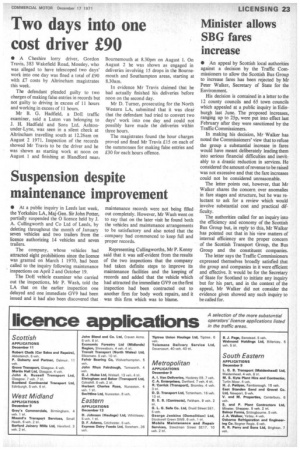 Page 25, 17th December 1971 —
Minister allows SBG fares increase
Close
• An appeal by Scottish local authorities against a decision by the Traffic Commissioners to allow the Scottish Bus Group to increase fares has been rejected by Mr Peter Walker, Secretary of State for the Environment.
His decision is contained in a letter to the 12 county councils and 65 town councils which appealed at a public inquiry in Edinburgh last June. The proposed increases, ranging up to 25p, were put into effect last February after they were sanctioned by the Traffic Commissioners.
In making his decision, Mr Walker has noted the Commissioners' view that to refuse the group a substantial increase in fares would have meant deliberately leading them into serious financial difficulties and inevitably to a drastic reduction in services. He considered the amount of revenue to be raised was not excessive and that the fare increases could not be considered unreasonable.
The letter points out, however. that Mr Walker shares the concern over anomalies in fare stages and structure, but he was reluctant to ask for a review which would involve substantial cost and practical difficulty.
The authorities called for an inquiry into the efficiency and economy of the Scottish Bus Group but, in reply to this, Mr Walker has pointed out that in his view matters of internal efficiency are the proper concern of the Scottish Transport Group, the Bus Group and the constituent companies.
The letter says the Traffic Commissioners expressed themselves broadly satisfied that the group and companies in it were efficient and effective. It would be for the Secretary of State for Scotland to initiate any inquiry but for his part, and in the context of the appeal, Mr Walker did not consider the evidence given showed any such inquiry to be called for.