PEOPLE
17th December 1971
Page 24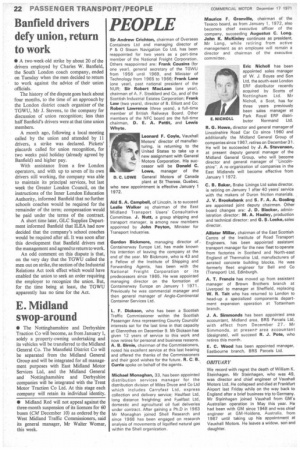 Page 24, 17th December 1971 —
PEOPLE
Close
Sir Andrew Crichton, chairman of Overseas Containers Ltd and managing director of P & 0 Steam Navigation Co Ltd, has been reappointed for two years as a part-time member of the National Freight Corporation. Others reappointed are: Frank Cousins (for one year), general secretary of the TGWU from 1956 until 1969, and Minister of Technology from 1965 to 1966; Frank Lane lone year), past national president of the NUR; Sir Robert MacLean (one year), chairman of A. F. Stoddard and Co, and of the Scottish Industrial Estates Corporation; Frank Law (two years), director of B. Elliott and Co; Robert Lawrence (three years), a full-time member of British Railways Board. Other members of the NFC board are the full-time chairman, D. E. A. Pettit, and Lewis Whyte.
Leonard F. Coyle, Vauxhall Motors' director of manufacturing, is returning to the United States to take up a new assignment with General Motors Corporation. His successor will be Donald C. Lowe, manager of the General Motors of Canada plant at St Therese. Quebec, who new appointment is effective January 1 1972. O. C. LOWE Ald S. A. Campbell, of Lincoln, is to succeed Leslie Walker as chairman of the East Midland Transport Users' Consultative Committee. J. Nutt, a group shipping and transport manager, is among new members appointed by John Peyton, Minister for Transport Industries, Gordon Bickmore, managing director of Containerway Europe Ltd, has made known his intention of leaving the company at the end of the year. Mr Bickmore, who is 43 and a Fellow of the Institute of Shipping and Forwarding Agents, has been with the National Freight Corporation or its predecessors since 1965. He was appointed managing director on the formation of Containerway Europe on January 1 1971. Previously he was commercial manager and then general manager of Anglo-Continental Container Services Ltd.
L. F. Dickson, who has been a Scottish Traffic Commissioner within the Scottish Passenger Area representing County Councils' interests sat for the last time in that capacity at Glenrothes on December 9. Mr Dickson has given 12 years of service to this work and now retires for personal and business reasons. A. B. Birnie, chairman of the Commissioners, noted his excellent service at this last hearing and offered the thanks of the Commissioners and their good wishes for the future. R. C. B. Currie spoke on behalf of the agents.
Michael Monaghan, 33, has been appointed distribution services manager for the distribution division of Miles Druce and Co Ltd which includes Carryfast Ltd, express collection and delivery service; Haulfast Ltd, long distance freighting; and Fuelfast Ltd, domestic and agricultural oil fuel deliveries under contract. After gaining a Ph.D in 1963 Mr Monaghan joined Shell Research and since 1968 has been engaged on research analysis of movements of liquified natural gas within the Shell organization. Maurice F. Granville, chairman of the Texaco board, as from January 1, 1972, also becomes chief executive officer of the company, succeeding Augustus C. Long. John K. McKinley continues as president. Mr Long, while retiring from active management as an employee will remain a director and chairman of the executive committee.
Eric Nicholl has been appointed sales manager of W. J. Boyes and Son Ltd, the south-east London ERF distributor recently acquired by Scotts of Nottingham Ltd. Mr Nichol', a Scot, has for three years previously been sales manager at Park Royal ERF distributor Normand Ltd, R. G. Howe, director and general manager of Lincolnshire Road Car Co since 1960 and additionally the Midland General Group of companies since 1967, retires on December 31. He will be succeeded by J. A. Stevenson, at present deputy general manager of the Midland General Group, who will become director and general manager of "Lincolnshire". A re-organization of companies in the East Midlands will become effective from January 11972.
C. B. Baker, Brake Linings Ltd sales director, is retiring on January 1 after 40 years' service with the makers of Duren friction materials. J. V. Brooksbank and S. F. A. A. Gosling are appointed joint deputy chairmen. Other board changes are: J. D. Blacker, administration director; M. A. Healey, production and technical director; and G. S. Locke, sales director.
Allister Millar, chairman of the East Scottish Centre of the Institute of Road Transport Engineers, has been appointed assistant transport manager for the new fleet to operate from factories in Scotland and North-east England of Thermalite Ltd, manufacturers of aerated concrete building blocks. He was formerly fleet engineer for Bell and Co (Transport) Ltd, Edinburgh.
A. T. Francis has moved up from assistant manager of Brown Brothers branch at Liverpool to manager at Sheffield, replacing W. R. Tait who has returned to London to head-up a specialized components department expansion operation at Tottenham branch.
J. A. Simmonds has been appointed area accountant, Midland area, BRS Parcels Ltd, with effect from December 27. Mr Sirnmonds, at presenr area accountant (designate), will succeed R. J. Pote, who retires this month.
E. C. Wood has been appointed manager, Eastbourne branch, BRS Parcels Ltd.
Tags
People
:
E. C. Wood
,
Eric Nicholl
,
Michael Monaghan
,
J. A. Simmonds
,
John Peyton
,
Lewis Whyte
,
R. J. Pote
,
Donald C. Lowe
,
Frank Cousins
,
Leonard F. Coyle
,
L. F. Dickson
,
Maurice F. Granville
,
John K. McKinley
,
G. S. Locke
,
W. R. Tait
,
Augustus C. Long
,
C. B. Baker
,
Andrew Crichton
,
E. A. Pettit
,
J. D. Blacker
,
Robert MacLean
,
C. B. Currie
,
Frank Lane
,
Robert Lawrence
,
Gordon Bickmore
,
Allister Millar
,
Leslie Walker
,
R. G. Howe
,
Frank Law
,
Eastbourne
,
A. B. Birnie