Banfield drivers defy union, return to work
17th December 1971
Page 24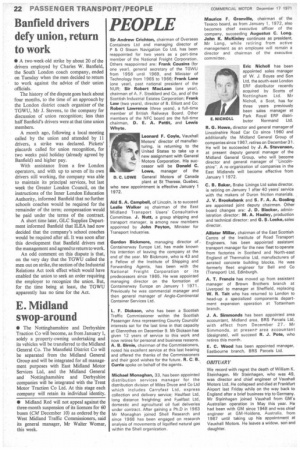 Page 24, 17th December 1971 —
Banfield drivers defy union, return to work
Close
• A two-week-old strike by about 20 of the drivers employed by Charles W. Banfield, the South London coach company, ended on Tuesday when the men decided to return to work against the advice of their union officials.
The history of the dispute goes back about four months, to the time of an approach by the London district coach organizer of the TGWU, Mr J. Stevens, to the company for discussion of union recognition; less than half Banfield's drivers were at that time union members.
A month ago, following a local meeting called by the union and attended by 11 drivers, a strike was declared. Pickets' placards called for union recognition, for two weeks paid holiday (already agreed by Banfield) and higher pay.
With assistance from a few London operators, and with up to seven of its own drivers still working, the company was able to maintain its principal services, but last week the Greater London Council, on the instructions of the Inner London Education Authority, informed Banfield that no further schools coaches would be required for the remainder of the term: compensation would be paid under the terms of the contract.
A short time later, GLC Supplies Department informed Banfield that ILEA had now decided that the company's school coaches would be required after all. It was soon after this development that Banfield drivers met the management and agreed to return to work.
An odd comment on this dispute is that, on the very day that the TGWU called the men out on strike, the section of the Industrial Relations Act took effect which would have enabled the union to seek an order requiring the employer to recognize the union. But, for the time being at least, the TGWU apparently has no time for the Act.