Rural buses 'expensive coffins'
17th December 1971
Page 20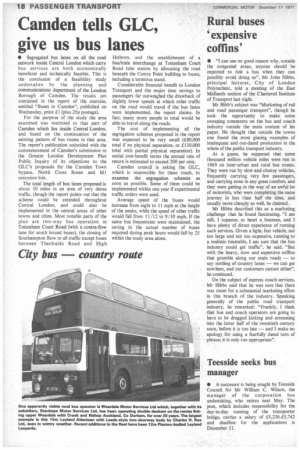 Page 20, 17th December 1971 —
Rural buses 'expensive coffins'
Close
• "I can see no good reason why, outside the congested areas, anyone should be expected to ride a bus when they can possibly avoid doing so", Mr John Hibbs, principal lecturer, City of London Polytechnic, told a meeting of the East Midlands section of the Chartered Institute of Transport last night.
Mr Hibb's subject was "Marketing of rail and road passenger transport", though he took the opportunity to make some sweeping comments on the bus and coach industry outside the main context of his paper. He thought that outside the towns one found the most glaring examples of inadequate and out-dated production in the whole of the public transport industry.
At a guess, he supposed that some thousand million vehicle miles were run in 1969 on inter-urban and rural bus routes. They were run by slow and clumsy vehicles, frequently carrying very few passengers, and carrying none in any great comfort, and they were getting in the way of an awful lot of motorists, who were completing the same journey in less than half the time, and usually more cheaply as well, he claimed.
Mr Hibbs described this as a marketing challenge that he found fascinating. "I am still, I suppose, at heart a busman, and I have plenty of direct experience of running such services. Given a light, fast vehicle, not too large and not too expensive, running to a realistic timetable, I am sure that the bus industry could get traffic", he said. "But with the heavy, slow and expensive coffins that grumble along our main roads — to say nothing of country lanes — we can get nowhere, and our customers cannot either", he continued, On the subject of express coach services, Mr Hibbs said that he was sure that there was room for a substantial marketing effort in this branch of the industry. Speaking generally of the public road transport industry, he remarked; "Frankly, I think that bus and coach operators are going to have to be dragged kicking and screaming into the latter half of the twentieth century soon, before it is too late — and I make no apology for using a fearfully dated turn of phrase; it is only too appropriate".