Camden tells GLC, give us bus lanes
17th December 1971
Page 20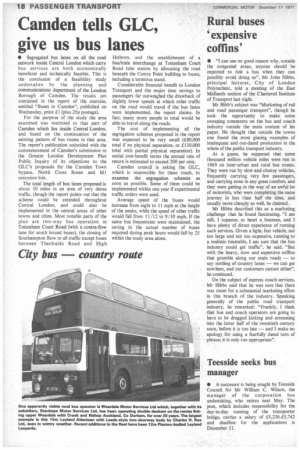 Page 20, 17th December 1971 —
Camden tells GLC, give us bus lanes
Close
• Segregated bus lanes on all the road network inside Central London which carry bus services are both economically beneficial and technically feasible. This is the conclusion of a feasibility study undertaken by the planning and communications department of the London Borough of Camden. The results are contained in the report of the exercise, entitled "Buses in Camden", published on Wednesday, price £1 (plus 25p postage).
For the purpose of the study the area examined was restricted to that part of Camden which lies inside Central London, and based on the continuation of the existing pattern of bus routes in that area. The report's publication coincided with the commencement of Camden's submission to the Greater London Development Plan Public Inquiry of its objections to the GLC's proposals for the Camden Town bypass, North Cross Route and Ml extension link.
The total length of bus lanes proposed is about 10 miles in an area of very dense traffic, though the report points out that the scheme could be extended throughout Central London, and could also be implemented in the central areas of other towns and cities. Most notable parts of the plan are two-way bus operation in. Tottenham Court Road (with a contra-flow lane for south bound buses), the closing of Southampton Row to all traffic except buses between Theobalds Road and High
Holborn, and the establishment of a bus/train interchange at Tottenham Court Road tube station by allocating the road beneath the Centre Point building to buses, including a terminus stand.
Considerable financial benefit to London Transport and the major time savings to passengers far outweighed the drawback of slightly lower speeds at which other traffic on the road would travel if the bus lanes were implemented, the report claims. In fact, many more people in total would be able to travel along the roads.
The cost of implementing all the segregation schemes proposed in the report was expected to be very small (£80,000 total if no physical separation, or £130,000 total with partial physical separation). In social cost-benefit terms the annual rate of return is estimated to exceed 200 per cent.
Camden council is asking the GLC, which is responsible for these roads, to examine the segregation schemes as soon as possible. Some of them could be implemented within one year if experimental traffic orders were used.
Average speed of the buses would increase from eight to 11 mph at the height of the peaks, while the speed of other traffic would fall from 11/12 to '9 /10 mph. If the same bus frequencies were maintained, the saving in the actual number of buses required during peak hours would fall by 25 within the study area alone.