New year changes for NFC groupings
17th December 1971
Page 18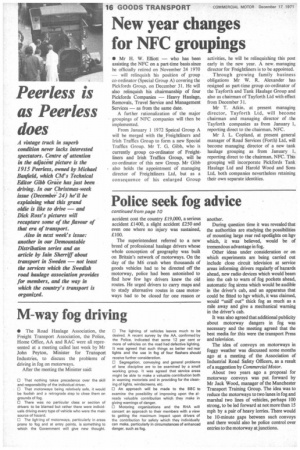 Page 18, 17th December 1971 —
New year changes for NFC groupings
Close
• Mr H. W. Elliott — who has been assisting the NFC on a part-time basis since he officially retired on November 24 1970 — will relinquish his position of group co-ordinator (Special Group A) covering the Pickfords Group, on December 31. He will also relinquish his chairmanship of four Pickfords Companies — Heavy Haulage, Removals, Travel Service and Management Services — as from the same date.
A further rationalization of the major groupings of NFC companies will then be implemented.
From January 1 1972 Speical Group A will be merged with the Freightliners and Irish Traffics Group to form a new Special Traffics Group. Mr T. G. Gibb, who is currently group co-ordinator of Freightliners and Irish Traffics Group, will be co-ordinator of this new Group. Mr Gibb also holds the appointment of managing director of Freightliners Ltd, but as a consequence of his enlarged Group
activities, he will be relinquishing this post early in the new year. A new managing director for Freightliners is to be appointed.
Through growing family business obligations Mr W. R. Alexander has resigned as part-time group co-ordinator of the Tayforth and Tank Haulage Group and also as chairman of Tayforth Ltd with effect from December 31.
Mr T. Atkin, at present managing director, Tayforth Ltd, will become chairman and managing director of the Tayforth companies as from January 1, reporting direct to the chairman, NFC.
Mr J. L. Copland, at present general manager of Road Services (Forth) Ltd, will become managing director of a new tank haulage grouping as from January 1, reporting direct to the chairman, NFC. This grouping will incorporate Pickfords Tank Haulage Ltd and Harold Wood and Sons Ltd, both companies nevertheless retaining their own separate identities.