M-way fog driving
17th December 1971
Page 18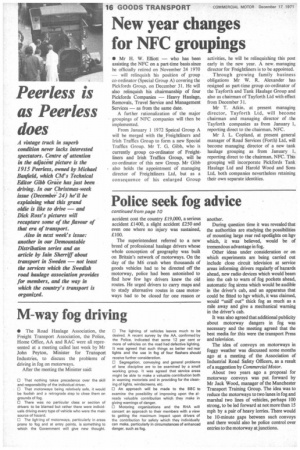 Page 18, 17th December 1971 —
M-way fog driving
Close
• The Road Haulage Association, the Freight Transport Association, the Police, Home Office, AA and RAC were all represented at a meeting called last week by Mr John Peyton, Minister for Transport Industries, to discuss the problems of driving in fog on motorways.
After the meeting the Minister said:
▪ That nothing takes precedence over the skill
and responsibility of the individual driver.
▪ That motorways being relatively safe, it would
be foolish and a retrograde step to close them on grounds of fog.
▪ There was no particular class or section of drivers to be blamed but rather there were individuals driving every type of vehicle who were the main source of hazard.
O The ligWing of motorways. particularly in areas prone to fog and at entry points, is something to which the Government will give new thought.
The lighting of vehicles leaves much to be desired. A recent survey by the AA, confirmed by the Police, indicated that some 12 per cent or more of vehicles on the road had defective lighting. It was agreed that such things as better red rear Eights and the use in fog of four flashers should receive further consideration.
ID Segregation, convoying and general problems of lane discipline are to be examined by a small working group. It was agreed that service areas might be able to make a valuable contribution both in warning motorists and in providing for the cleaning of lights, windscreens, etc.
An approach will be made to the BBC to examine the possibility of improving upon the already valuable contribution which they make in giving warnings of danger.
El Motoring organizations and the RHA will concert an approach to their members with a view to getting the maximum impact upon drivers of the contribution for safety which they individually can make, particularly in circumstances of enhanced danger, such as fog.