Hertz-Atkinson rental tie-up
17th December 1971
Page 16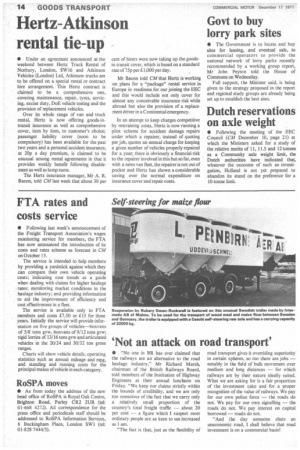 Page 16, 17th December 1971 —
Hertz-Atkinson rental tie-up
Close
• Under an agreement announced at the weekend between Hertz Truck Rental of Norbury, London, SW16 and Atkinson Vehicles (London) Ltd, Atkinson trucks are to be offered on a special rental or contract hire arrangement. This Hertz contract is claimed to be a comprehensive one, covering maintenance, repair, tyres, servicing, excise duty, DoE vehicle testing and the provision of replacement vehicles.
Over its whole range of van and truck rental, Hertz is now offering goods-intransit insurance as well as comprehensive cover, item by item, to customer's choice; passenger liability cover (soon to be compulsory) has been available for the past two years and a personal accident insurance, at 20p a day premium, is claimed to be unusual among rental agreements in that it provides weekly benefit following disablement as well as lump sums.
The Hertz insurance manager, Mr A. R. Bacon, told CM last week that about 30 per cent of hirers were now taking up the goodsin-transit cover, which is based on a standard rate of 75p per £1,000 per day.
Mr Bacon told CM that Hertz is working on plans for a "package" rental service in Europe in readiness for our joining the EEC and this would include not only cover for almost any conceivable insurance risk while abroad but also the provision of a replacement driver in a Continental emergency.
In an attempt to keep charges competitive by restraining cost, Hertz is now running a pilot scheme for accident damage repairs under which a repairer, instead of quoting per job, quotes an annual charge for keeping a given number of vehicles properly repaired for a year; there is obviously a financial risk to the repairer involved in this but so far, even with a news van fleet, the repairer is not out of pocket and Hertz has shown a considerable saving over the normal expenditure on insurance cover and repair costs.