FTA rates and costs service
17th December 1971
Page 16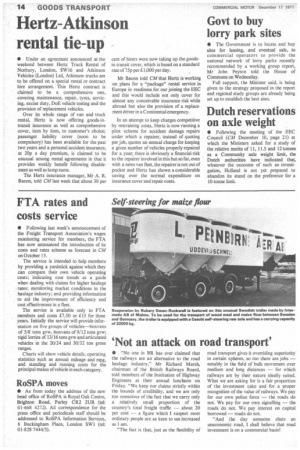 Page 16, 17th December 1971 —
FTA rates and costs service
Close
• Following last week's announcement of the Freight Transport Association's wages monitoring service for members, the FTA has now announced the introduction of its costs and rates scheme as forecast in CM on October 15.
The service is intended to help members by providing a yardstick against which they can compare their own vehicle operating costs; indicating cost trends as a guide when dealing with claims for higher haulage rates; monitoring market conditions in the haulage industry; and providing information to aid the improvement of efficiency and cost effectiveness in_a fleet.
The service is available only to FTA members and costs £7.50 or £15 for three years. Initially the service will provide information on five groups of vehicles—boxvans of 5/8 tons gvw, boxvans of 9/12 tons gvw; rigid lorries of 13/16 tons gvw and articulated vehicles in the 20/24 and 30/32 ton gross ranges.
Charts will show vehicle details, operating statistics such as annual mileage and mpg, and standing and running costs for the principal makes of vehicle in each category.
RoSPA moves
• As from today the address of the new head office of RoSPA is Royal Oak Centre, Brighton Road, Purley CR2 2UR (tel: 01-668 4272). All correspondence for the press office and periodicals staff should be addressed to RoSPA Information Services, 6 Buckingham Place, London SW1 (tel: 01-828 7444/5).