Would Chunnel help or hinder road operators?
17th December 1971
Page 14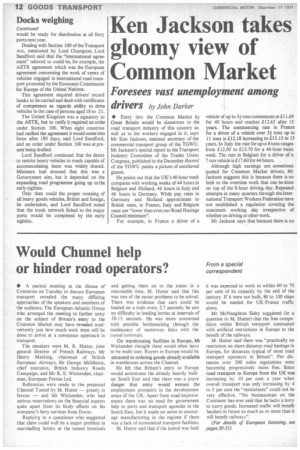 Page 14, 17th December 1971 —
Would Chunnel help or hinder road operators?
Close
• A packed meeting at the House of Commons on Tuesday to discuss European transport revealed the many differing approaches of the speakers and members of the audience. The European-Atlantic Group who arranged the meeting to further unity on the subject of Britain's entry to the Common Market may have revealed inadvertently just how much work must still be done to arrive at a consensus approach in transport.
The speakers were M. R. Hutter, joint general director of French Railways, Mr Henry Marking, chairman of British European Airways, Sir George Middleton, chief executive, British Industry Roads Campaign, and Mr R. E. Wickenden, chairman, European Ferries Ltd.
References were made to the projected Channel Tunnel by M. Hutter — greatly in favour — and Mr Wickenden, who had serious reservations on the financial aspects quite apart from its likely effects on his company's ferry services from Dover.
Replying to a questioner who suggested that there could well be a major problem in marshalling lorries at the tunnel terminals and getting them on to the trains in a reasonable time, M. Hutter said that this was one of the easier problems to be solved. There was evidence that cars could be loaded on a train every 2.7 seconds; he saw no difficulty in loading lorries at intervals of 1'0-15 seconds. He was more concerned with possible bottlenecking through the inadequacy of motorway links with the tunnel terminals.
On warehousing facilities in Europe, Mr Wickenden thought these would often have to be multi-user. Buyers in Europe would be attracted to ordering goods already available in warehouses across the Channel.
He felt that Britain's entry to Europe would accentuate the already heavily builtup South East and that there was a grave danger that entry would worsen the employment prospects in the development areas of the UK. Apart from road improvements there was no need for government help to ports and transport agencies in the South East, but it made no sense to encourage manufacturing in the regions if there was a lack of economical transport facilities.
M. Hutter said that if the tunnel was built it was expected to work to within 60 to 70 per cent of its capacity by the end of the century. If it were not built, 80 to 100 ships would be needed for UK-France traffic alone.
Mr McNaughton Sidey suggested (in a question to M. Rutter) that the free competition within British transport contrasted with artificial restrictions in Europe to the benefit of the railways.
M. Hutter said there was "practically no restriction on short-distance road haulage in Europe, for distances typical of most road transport operators in Britain". For distances over 300 miles regulations were becoming progressively more free. Since road transport to Europe from the UK was increasing by 10 per cent a year when overall transport was only increasing by 4 to 5 per cent the "restrictions" could not be very effective. "No businessman on the Continent has ever said that he lacks a lorry to carry goods. Increased traffic will benefit hauliers in future as much as or more than it will benefit railways".
(For details of European licensing, see pages 30-31)