Ken Jackson takes gloomy view of Common Market
17th December 1971
Page 14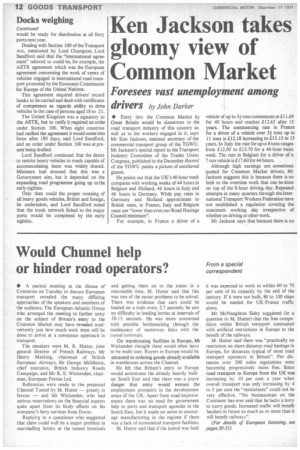 Page 15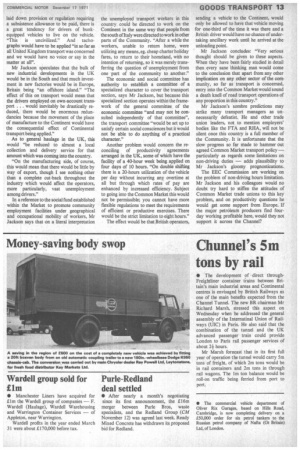 Page 14, 17th December 1971 —
Ken Jackson takes gloomy view of Common Market
Close
Foresees vast unemployment among
drivers by John Darker • Entry into the Common Market by Great Britain would be disastrous to the road transport industry of this country as well as to the workers engaged in it, says Mr Ken Jackson, national secretary of the commercial transport group of the TGWU. Mr Jackson's special report to the Transport Industry Committee of the Trades Union Congress, published in the December .Record of the TGWU paints a picture of unrelieved gloom.
He points out that the UK's 40-hour week compares with working weeks of 44 hours in Belgium and Holland, 46 hours in Italy and 48 hours in Germany. While pay rates in Germany and Holland approximate to British rates, in France, Italy and Belgium rates are "lower than even our Road Haulage Council minimum".
For example, in France a driver of a
vehicle of up to 3+ tons commences at £11.69 for 40 hours and reaches £12.63 after 15 years. The commencing rate in France for a driver of a vehicle over 3+ tons up to 11 tons is £12.18 increasing to £13.15 in 15 years. In Italy the rate for up to 8 tons ranges from £12.50 to £13.70 for a 46-hour basic week. The rate in Belgium for a driver of a 7-ton vehicle is £17.60 for 44 hours.
Although high earnings are sometimes quoted for Common Market drivers, Mr Jackson suggests this is because there is no limit to the overtime work that can be done on top of the 8-hour driving day. Repeated attempts in many quarters through the International Transport Workers Federation have not established a regulation covering the maximum working day irrespective of whether on driving or other work.
Mr Jackson says that because there is no laid down provision or regulation requiring a subsistence allowance to be paid, there is a great tendency for drivers of bunkequipped vehicles to live on the vehicle. "This is uncivilized." And tachographs would have to be applied "in so far as all United Kingdom transport was concerned and we would have no voice or say in the matter at all".
Mr Jackson speculates that the bulk of new industrial developments in the UK would be in the South and that much investment in new factories would be in Europe, Britain being "an offshore island." "The effect of this on transport would mean that the drivers employed on own-account transport . . would inevitably be drastically reduced, there would be enormous redundancies because the movement of the place of manufacture to the Continent would have the consequential effect of Continental transport being applied."
As to general haulage in the UK, this would "be reduced to almost a local collection and delivery service for that amount which was coming into the country.
"On the manufacturing side, of course, this would mean that there would be little by way of export, though I see nothing other than a complete cut-back throughout the industry which would affect the operators, more particularly, vast unemployment among drivers."
In a reference to the social fund established within the Market to promote community employment facilities under geographical and occupational mobility of workers, Mr Jackson says that on a literal interpretation
the unemployed transport workers in this country could be directed to work on the Continent in the same way that people from the south of Italy were directed to work in other parts of the Community. -After a while the workers, unable to return home, were utilizing any means, eg, cheap charter holiday fares, to return to their homeland, with no intention of returning, so it was merely transferring the question of unemployment from one part of the community to another."
The economic and social committee has authority to establish a committee of a specialized character to cover the transport section, says Mr Jackson, but because this specialized section operates within the framework of the general committee of the economic committee "and may not be consulted independently of that committee", the transport committee "would be set up to satisfy certain social consciences but it would not be able to do anything of a practical character."
Another problem would concern the reconciling of productivity agreements arranged in the UK, some of which have the facility of a 40-hour week being applied on four days of 10 hours. "On double shifting there is a 20-hours utilization of the vehicle per day without incurring any overtime at all but through which rates of pay are enhanced by increased efficiency. Subject to going into the Common Market this would not be permissible; you cannot have more flexible regulations to meet the requirements of efficient or productive exercises. There would be the strict limitation to eight hours,"
The effect would be that British operators, sending a vehicle to the Continent, would only be allowed to have that vehicle moving for one-third of the time it was there and a British driver would have no chance of undertaking ancillary work until he arrived at the unloading point.
Mr Jackson concludes: "Very serious thought should be given to these aspects. When they have been fairly studied in detail then every sane thinking man would come to the conclusion that apart from any other implication on any other sector of the community, so far as transport is concerned, entry into the Common Market would sound a death knell of road transport operations of any proportion in this country."
Mr Jackson's sombre predictions may strike many transport managers as unnecessarily defeatist. He and other trade union leaders, not to mention employers' bodies like the FTA and RHA, will not be silent once this country is a full member of the Community. It is unfortunate that the slow progress so far made to hammer out agreed Common Market transport policy — particularly as regards some limitations on non-driving duties — adds plausibility to Mr Jackson's gloomy prognostications.
The EEC Commission are working on the problem of non-driving hours limitation. Mr Jackson and his colleagues would no doubt try hard to stiffen the attitudes of Common Market trade unions to this key problem, and on productivity questions he would get some support from Europe. If the major petroleum producers find fourday working profitable here, would they not support it across the Channel?