reached by the driver of the vehicle. "But we ought
17th December 1971
Page 13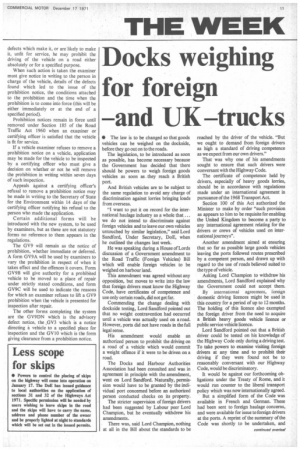 Page 14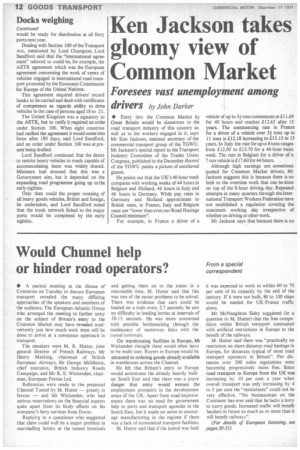 Page 13, 17th December 1971 —
reached by the driver of the vehicle. "But we ought
Close
to demand from foreign drivers as high a standard of driving competence as we expect from our own drivers."
That was why one of his amendments sought to ensure that such drivers were conversant with the Highway Code.
The certificate of competence held by drivers, especially of heavy goods lorries, should be in accordance with regulations made under an international agreement in pursuance of the 1968 Transport Act.
Section 100 of this Act authorized the Minister to make by order "such provision as appears to him to be requisite for enabling the United Kingdom to become a party to any international agreement relating for the drivers or crews of vehicles used on international journeys".
Another amendment aimed at ensuring that so far as possible large goods vehicles leaving the ports followed routes prescribed by a competent person, and drawn up with regard to the use of roads believed suited to the type of vehicle.
Asking Lord Champion to withdraw his amendments, Lord Sandford explained why the Government could not accept them.
By unemotional agreement, foreign domestic driving licences might be used in this country for a period of up to 12 months. The holding of this licence also exempted the foreign driver from the need to acquire a British heavy goods vehicle licence or public service vehicle licence.
Lord Sandford pointed out that a British driver could be tested on his knowledge of the Highway Code only during a driving test. To take powers to examine visiting foreign drivers at any time and to prohibit their driving if they were found not be to reasonably conversant with our Highway Code, would be discriminatory.
It would be against our forthcoming obligations under the Treaty of Rome, and it would run counter to the liberal transport policy which was now internationally agreed.
But a simplified form of the Code was available in French and German. These had been sent to foreign haulage concerns, and were available for issue to foreign drivers at the ports. A reprint of the summary of the Code was shortly to be undertaken, and
would be ready for distribution at all ferry ports next year.
Dealing with Section 100 of the Transport Act, mentioned by Lord Champion, Lord Sandford said that the "international agreement" referred to could be, for example, the AETR agreement which was the European agreement concerning the work of crews of vehicles engaged in international road transport promoted by the Economic Commission for Europe of the United Nations.
This agreement required drivers' record books to be carried and dealt with certificates of competence as regards ability to drive vehicles in the case of persons aged 18 to 21.
The United Kingdom was a signatory to the AETR, but to ratify it required an order under Section 100. When eight countries had ratified the agreement it would come into force after 180 days, said Lord Sandford, and an order under Section 100 was at present being drafted.
Lord Sandford continued that the desire to restrict heavy vehicles to roads capable of accommodating them was widely shared. Ministers had stressed that this was a Government aim, but it depended on the expanding road programme going up to the early eighties.
Only then could the proper routeing of all heavy goods vehicles, British and foreign, be undertaken, and Lord Sandford noted that the trunk network linked to the major ports would be completed by the early eighties.