Police seek drivers' advice in beating
17th December 1971
Page 12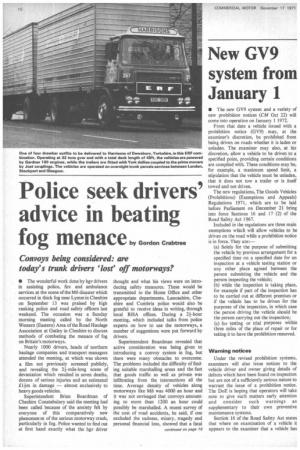 Page 18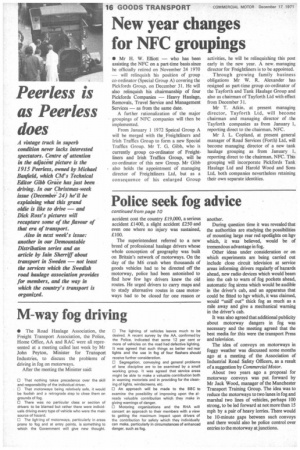 Page 12, 17th December 1971 —
Police seek drivers' advice in beating
Close
fog menace by Gordon Crabtree
Convoys being considered: are today's trunk drivers 'lose off motorways?
• The wonderful work done by hgv drivers in assisting police, fire and ambulance services at the scene of the M6 disaster which occurred in thick fog near Lymm in Cheshire on September 13 was praised by high ranking police and road safety officers last weekend. The occasion was a Sunday morning meeting called by the North Western (Eastern) Area of the Road Haulage Association at Gatley in Cheshire to discuss methods of combating the menace of fog on Britain's motorways.
Nearly 1000 drivers, heads of northern haulage companies and transport managers attended the meeting, at which was shown a film not previously screened publicly, and revealing the 21-mite-long scene of devastation which resulted in seven deaths, dozens of serious injuries and an estimated £Iim in damage — almost exclusively to heavy goods vehicles.
Superintendent Brian Boardman of Cheshire Constabulary said the meeting had been called because of the anxiety felt by everyone of this comparatively new phenomenon of the serious motorway crash, particularly in fog. Police wanted to find out at first hand exactly what the hgv driver thought and what his views were on introducing safety measures. These would be transmitted to the Home Office and other appropriate departments. Lancashire, Cheshire and Cumbria police would also be grateful to receive ideas in writing, through local RHA offices. During a 2+-hour meeting, which included talks from police experts on how to use the motorways, a number of suggestions were put forward by drivers.
Superintendent Boardman revealed that active consideration was being given to introducing a convoy system in fog, but there were many obstacles to overcome. The problems included the difficulty of finding suitable marshalling areas and the fact that goods traffic as well as private was infiltrating from the intersections all the time. Average density of vehicles along motorways like M6 was 4000 an hour and it was not envisaged that convoys amounting to more than 1200 an hour could possibly be marshalled. A recent survey of the cost of road accidents, he said, if one excluded the sadness, misery, tragedy and personal financial loss, showed that a fatal accident cost the country £19,000, a serious accident £1400, a slight accident £250 and even one where no injury was sustained, £100.
The superintendent referred to a new breed of professional haulage drivers whose whole conception of geography was built on Britain's network of motorways. On the day of the M6 crash when thousands of goods vehicles had to be directed off the motorway, police had been astonished to find how few hgv drivers knew the old routes. He urged drivers to carry maps and to study alternative routes in case motorways had to be closed for one reason or
another.
During question time it was revealed that the authorities are studying the possibilities of mounting large rear red spotlights on hgv which, it was believed, would be of tremendous advantage in fog.
Other ideas under consideration or on which experiments are being carried out include close circuit television at service areas informing drivers regularly of hazards ahead, new radio devices which would beam into the cab to warn of fog pockets ahead, automatic fog sirens which would be audible in the driver's cab, and an apparatus that could be fitted to hgv which, it was claimed, would "sniff out" thick fog as much as a mile away and give a mechanical warning in the driver's cab.
It was also agreed that additional publicity about motorway dangers in fog was necessary and the meeting agreed that the best media for this were the transport Press and television.
The idea of convoys on motorways in foggy weather was discussed some months ago at a meeting of the Association of Industrial Road Safety Officers, as a result of a suggestion by Commercial Motor.
About two years ago a proposal for motorway convoys was put forward by Mr Jack Wood, manager of the Manchester Transport Training Group. The idea was to reduce the motorways to two lanes in fog and marshal two lines of vehicles, perhaps 100 strong, to be led forward at not more than 15 mph by a pair of heavy lorries. There would be 10-minute gaps between such convoys and there would also be police control over entries to the motorway at junctions.