by Jack Semple
17th August 1985
Page 8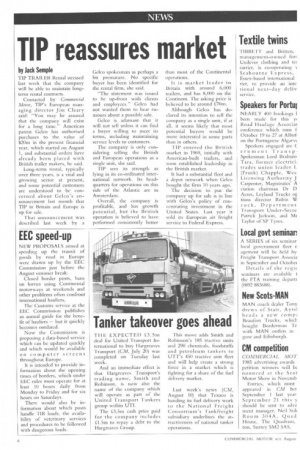 Page 8, 17th August 1985 —
by Jack Semple
Close
TIP TRAILER Rental stressed last week that the company will be able to maintain longterm rental contracts.
Contacted by Commercial Motor, TI P's European managing director Jim Cleary said: "You may be assured that the company will exist for a long time." American parent Gelco has authorised purchases to the value of $20m in the present financial year, which started on August 1, and substantial orders have already been placed with British trailer makers, he said.
Long-term rental, typically over three years, is a vital and growing sector at present, and sonic potential customers are understood to -be concerned about Gelco's announcement last month that TIP in Britain and Europe is up for sale.
That announcement was described last week by a Gelco spokesman as perhaps a bit premature. No specific buyer has been identified for the rental firm, she said.
"The statement was issued to he up-front with clients and employees." Gelco had not wanted them to hear rumours about a possible sale.
Gelco is adamant that it will not sell unless it can find a buyer willing to meet its terms., including maintaining service levels to customers.
The company is only considering selling the British and European operations as a single unit, she said.
TIP sees its strength as lying in its co-ordinated international network. Its headquarters for operations on this side of the Atlantic are in Amsterdam.
Overall, the company is profitable, and has growth potential, but the British operation is believed to have performed consistently better than most of the Continental operations.
It is market leader in Britain with around 6,000 trailers, and has 8,000 on the Continent. The asking price is believed to be around £70m.
Although Gelco has declared its intention to sell the company as a single unit, if at all, it seems likely that most potential buyers would be more interested in some parts than in others.
TIP entered the British market in 1969, initially with American-built trailers, and soon established leadership in the British market.
It had a substantial fleet and a depot network when Geier) bought the firm 10 years ago.
The decision to put the company up for sale is in line with Gelco's policy of concentrating investment in the United States. Last year it sold its European air freight service to Federal Express.