lips on the new blocks from Detroit Diesel
17th August 1985
Page 7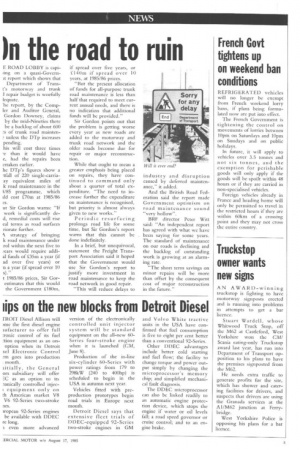 Page 7, 17th August 1985 —
lips on the new blocks from Detroit Diesel
Close
FROIT Diesel Allison will nine the first diesel engine sufacturer to offer full :ronic control of its fuel :fion equipment as an onoption when its Detroit sel Electronic Control goes into production month.
iitially, the General ors subsidiary will offer F.0 as an option to its nanically controlled injecequipment only on th American market V8 V6 92-Series two-stroke nes.
iropean 92-Series engines be available with DDEC re long.
I even more advanced
version of the electronically controlled unit injector system will be standard equipment on the all-new 60Series four-stroke engine when it is launched (CM, June 8).
Production of the in-line six-cylinder 60-Series with power ratings from 179 to 298kW (240 to 400hp) is scheduled to begin in the USA in autumn next year.
Vehicles fitted with preproduction prototypes begin road trials in Europe next month.
Detroit Diesel says that extensive fleet trials of DDEC-equipped 92-Series two-stroke engines in GM and Volvo White tractive units in the USA have confirmed that fuel consumption is five to eight per cent better than a conventional 92-Series.
Other Dl )EC advantages include better cold starting and fuel flow; the facility to change torque and power output simply by changing the microprocessor's memory chip; and simplified mechanical fault diagnosis.
The DDEC microprocessor can also be linked readily to an automatic engine protection device, which stops the engine if water or oil levels fall; a road speed governor or cruise control; and to an engine brake.