hi the road to ruin
17th August 1985
Page 7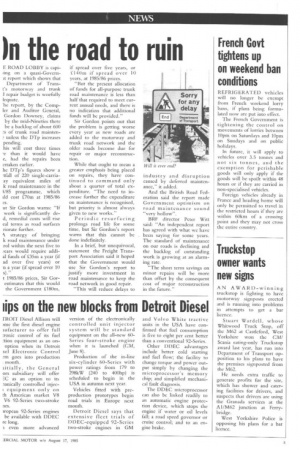 Page 7, 17th August 1985 —
hi the road to ruin
Close
E ROAD LOBBY is capi.ing on a quasi-Governit report which shows that Department of Transt's motorway and trunk repair budget is woefully lequate.
be report, by the Compler and Auditor General, Gordon Downey, claims by the mid-Nineties there be a backlog of about 600 :s of trunk road mainten: unless the DTp increases pending.
his will cost three times -e than it would have e, had the repairs been crtaken earlier.
he DTp's figures show a 1611 of 220 single-carriaay equivalent miles of k road maintenance in the 1-/85 programme, which ild cost £.70m at 1985/86 es.
ut Sir Gordon warns: "If work is significantly ded, remedial costs will rise cal terms as road surfaces riorate further.
k strategy of bringing k road maintenance under rd l within the next five to rears would require addial funds of £35rn a year (if ad over five years) or n a year (if spread over 10 s)."
t 1985/86 prices, Sir Gorestimates that this would the Government £180m, if spread over five years, or £140m if spread over 10 years, at 1985/86 prices.
"But the present allocation of funds for all-purpose trunk road maintenance is less than half that required to meet current annual needs, and there is no indication that additional funds will be provided."
Sir Gordon points out that the problem is getting worse every year as new roads are added to the motorway and trunk road network and the older roads become due for repair or major reconstruction.
While that ought to mean a greater emphasis being placed on repairs, they have continued to command only about a quarter of total expenditure. "The need to increase further the expenditure on maintenance is recognised, but priority is almost always given to new works."
Periodic resurfacing prolongs road life for some time, but Sir Gordon's report warns that this cannot be done indefinitely.
In a brief, but unequivocal, statement the Freight Transport Association said it hoped that the Government would use Sir Gordon's report to justify snore investment in road maintenance to keep the road network in good repair.
"This will reduce delays to industry and disruption caused by deferred maintenance," it added.
And the British Road Federation said the report made Government optimism on road maintenance sound "very hollow".
BRE director Peter Witt said: "An independent report has agreed with what we have been saying for some years. The standard of maintenance on our roads is declining and the backlog of outstanding work is growing at an alarming rate.
"The short term savings on minor repairs will be more than offset by the consequent cost of major reconstruction in the future."