Registrations down 4.5pc
17th August 1985
Page 6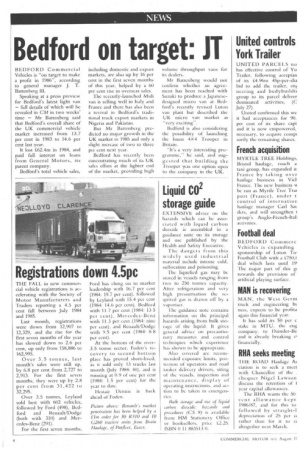 Page 6, 17th August 1985 —
Registrations down 4.5pc
Close
THE FALL in new commercial vehicle registrations is accelerating with the Society of Motor Manufacturers and Traders reporting a 4.5 per cent fall between July 1984 and 1985.
Last month, registrations were down from 12,907 to 12,329, and the rise for the first seven months of the year has slowed down to 2.6 per cent, up only from 158,886 to 162,995.
Over 3.5 tonnes, last month's sales were still up, by 6.8 per cent from 2,727 to 2,913. For the first seven months, they were up by 2.8 per cent from 31,422 to 32,295.
Over 3.5 tonnes, Leyland sold best with 602 vehicles, followed by Ford (498), liedford and Renault/Dodge (both with 310) and Mercedes-Benz (291).
For the first seven months, Ford has clung on to market leadership with 16.7 per cent (1984: 19.7 per cent), followed by Leyland with 15.4 per cent (1984: 14.6 per cent). Bedford with 11.7 per cent (1984: 13.5 per cent), Mercedes-Benz with 11.3 per cent (1984: nine per cent), and Renault/Dodge with 9.5 per cent (1984: 8.8 per cent).
At the bottom of the over3.5 tonne sector, Foden's recovery to second bottom place has proved short-lived, as it sold only 13 trucks last month (July 1984: 40), and is running at 0.9 of one per cent (1984; 1.5 per cent) for the year to date.
Hestair Dennis is back ahead of Foden.
Piaure above: Renault's market penetration has been helped by a flm order Jr 30 R310 and 10 G260 tractive units from Brant Haulage, of Purfleet, Essex.