Bedford on target: JT
17th August 1985
Page 6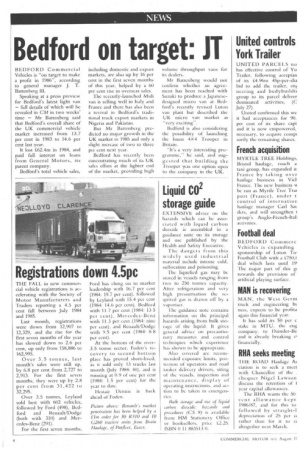 Page 6, 17th August 1985 —
Bedford on target: JT
Close
Keywords :
Car Body Styles
,
Car Manufacturers
,
General Motors
,
Vehicles
,
Isuzu
,
Bedford
,
Van
,
Luton Body
,
Luton
,
Bedford Vehicles
,
Business / Finance
BEDFORD Commercial Vehicles is "on target to make a profit in 1986", according to general manager J. T. Battenberg III.
Speaking at a press preview for Bedford's latest light van — full details of which will be revealed in CM in two weeks' time — Mr Battenberg said that Bedford's overall share of the UK commercial vehicle market increased from 13.7 per cent in 1983 to 14.6 per cent last year.
It lost £62.4m in 1984, and paid full interest on loans from General Motors, its parent company.
Bedford's total vehicle sales, including domestic and export markets, are also up by 16 per cent in the first seven months of this year, helped by a 60 per cent rise in overseas sales_ The recently-launched Midi van is selling well in Italy and France and there has also been a revival in Bedford's traditional truck export markets in Nigeria and Pakistan.
But Mr Battenberg predicted no major growth in the UK market in 1985 and only a slight increase of two to three pet cent next year.
Bedford has recently been concentrating much of its UK sales effort at the lighter end of the market, providing high volume throughput vans for its dealers.
Mr Battenberg would not confirm whether an agreement has been reached with Suzuki to produce a Japanesedesigned micro van at Bedford's recently revised Luton van plant but described the UK micro van market as "very exciting".
Bedford is also considering the possibility of launching the Isuzu 4x4 Trooper in Britain.
"It's a very interesting programme," he said, and suggested that building the Trooper was one option open to the company in the UK.