Slim haulage margins hold back TDG profits
17th August 1985
Page 5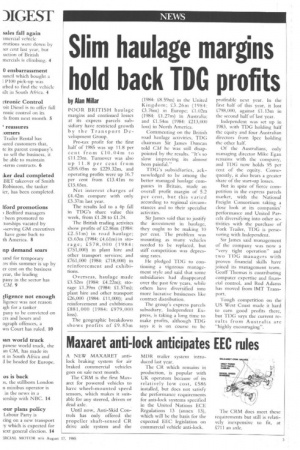 Page 5, 17th August 1985 —
Slim haulage margins hold back TDG profits
Close
by Alan Millar
POOR BRITISH haulage margins and continued losses at its express parcels subsidiary have restricted growth by the Transport Development Group.
Pre-tax profit for the first half of 1985 was up 11.8 per cent from A:10.04m to £11.23m. Turnover was also up 11.8 per cent from £205.05m to £229.32m, and operating profits were up 16.7 per cent from £13.41m to £15.65m.
Net interest charges of £4.42m compare with only £3.37m last year.
The results led to a 4p fall in TDG's share value this week, from £1.28 to £1.24.
The British trading activites show profits of £2.86m (1984: £2.51m) in road haulage; £5.63m (1984: £4,61m)in storage; £578,000 (1984: £751,000) in plant hire and other transport services; and £761,000 (1984: £718,000) in reinforcement and exhibitions.
Overseas, haulage made £3.52m (1984: £4.22m); storage £1.39m (1984: £1.57m); plant hire and other transport £26,000 (1984: £11,000); and reinforcement and exhibitions £881,000 (1984: £979,000 loss).
The geographic breakdown shows profits of £9.83m (1984: £8.59m) in the United Kingdom; £3.26m (1984: £3.76m) in Europe; .£1.02m (1984: £1.27m) in Australia; and £1.54m (1984: £213,000 loss) in North America, Commenting on the British road haulage activities, TDG chairman Sir James Duncan told CM he was still disappointed by the results. "It's so slow improving its almost been painful."
TDG's subsidiaries, acknowledged to be among the better managed haulage companies in Britain, made an overall profit margin of 5.2 per cent, but this varied according to regional circumstances and to their specialist activities.
Sir James said that to justify the investment in haulage, they ought to be making 10 per cent. The problem was mounting as many vehicles needed to be replaced, but stiff competition was depressing rates.
He pledged TDG to continuing a vigorous management style and said that some subsidiaries had disappeared over the past few years, while others have diversified into more lucrative businesses like contract distribution.
The group's express parcels subsidiary, Independent Express, is taking a long time to make profits, although TDG says it is on course to be profitable next year. In the first half of this year, it lost £798,000, against 11.13m in the second half of last year.
Independent was set up in 1983, with TDG holding half the equity and four Australian directors from lpec holding the other half.
Of the Australians, only managing director Mike Egan remains with the company, and TDG now holds 95 per cent of the equity. Consequently, it also bears a greater share of the start-up losses.
But in spite of fierce competition in the express parcels market, with the National Freight Consortium taking a close look at its companies' performance and United Parcels diversifying into other activities with the purchase of York Trailer, TDG is persevering with Independent.
Sir James said management of the company was now a "very tight operation" and two TDG managers with proven financial skills have joined its management team. Geoff Thomas is contributing computer expertise and financial control, and Rod Adams has moved from 1MT Transport.
Tough competition on the US West Coast made it hard to earn good profits there, but TDG says the current results from Australia are "highly encouraging".