PING UP )IZ SERVICE
17th August 1985
Page 29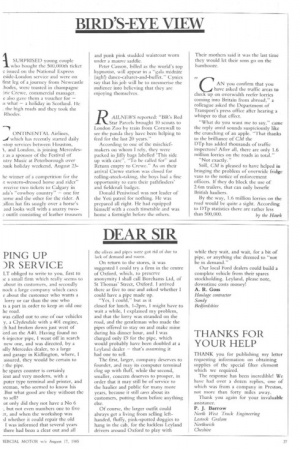 Page 29, 17th August 1985 —
PING UP )IZ SERVICE
Close
LT obliged to write to you, first to ;e a small firm which really seems to about its customers, and secondly nock a large company which cares e about the customer who wants a lorry or car than the one who ts a part in order to keep an old one he road.
was called out to one of our vehicles y, a Clydesdale with a 401 engine,
had broken down just west of Ord on the A40. Having found no 6 injector pipe, I went off in search new one, and was directed, by a idly Mercedes dealer, to a large and garage in Kidlington, where, I assured, they would be certain to the pipe.
he spares counter is certainly lent and very modern, with a puter type terminal and printer, and ireman, who seemed to know his But what good are they without the to sell?
ot only did they not have a No 6 , but not even numbers one to five and when the workshop was whether it could repair the old I was informed that several years there had been a clear out and all
the olives and pipes were got rid oi due to lack of demand and room.
On return to the stores, it was suggested I could try a firm in the centre of Oxford, which, to preserve anonymity I shall call Borehams Ltd, of St Thomas' Street, Oxford. I arrived there ar five to one and asked whether I could have a pipe made up.
"Yes, 1 could," but as it closed for lunch, 1-2prrt, I might have to wait a while, I explained my problem, and that the lorry was stranded on the road, and the gentleman who made the pipes offered to stay on and make mine during his dinner hour, and I was charged only ,C9 for the pipe, which would probably have been doubled at a Leyland dealer — that's assurning it had one to sell.
The first, larger, company deserves to founder, and may its computer terminal clog up with fluff, while the second, smaller, concern deserves to prosper, in order that it may still be of service to the haulier and public for many snore years, because it still cares about its customers, putting them before anything else.
Of course, the larger outfit could always get a living from selling lefthanded, fluffy, pink-spotted doggies to hang in die cab, for the luckless Leyland drivers around Oxford to play with while they wait, and wait, for a bit of pipe, or anything else deemed to "not be in demand."
Our local Ford dealers could build a complete vehicle from their spares stockholding. Leyland, please note, downtime costs money!
A. R. Goss Haulage contractor Sandy Bedfordshire