i SURPRISED young couple who bought the 500,000th ticket e issued
17th August 1985
Page 29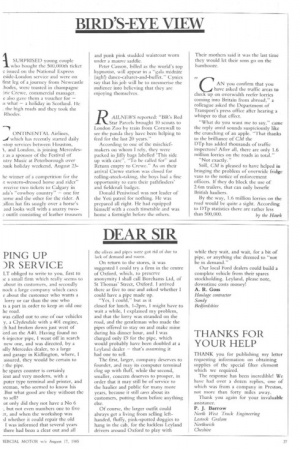 Page 29, 17th August 1985 —
i SURPRISED young couple who bought the 500,000th ticket e issued
Close
on the National Express eside-London service and were on first leg of a journey from Newcastle .hodes, were toasted in champagne rie Crewe, commercial manager. e also gave them a voucher for — ...: what — a holiday in Scotland. He . the high roads and they took the Rhodes.
ONTINENTAL Airlines, which has recently started daily -stop services between Houston, and London, is joining Mercedesasa sponsor of the Festival of ntry Music at Peterborough over )ank holiday weekend, August 23 se winner of a competition for the western-dressed horse and rider" receive two tickets to Calgary in ada's "cowboy country" — one for mrse and the other for the rider. A alloti hat fits snugly over a horse's and looks well with a snazzy two outfit consisting of leather trousers and punk pink studded waistcoat worn under a mauve saddle.
Peter Casson, billed as the world's top hypnotist, will appear in a "gala midnitc (ugh!) dance-cabaret-and-buffet." Cynics say that his job will be to mesmerise the audience into believing that they are enjoying themselves.
RA1LNEWS reported: "BR's Red Star Parcels brought 10 scouts to London Zoo by train from Cornwall to see the panda they have been helping to feed for the last 20 years."
According to one of the mischiefmakers on whom I rely, they were packed in Jiffy bags labelled This side up with care", "To be called for" and Return empty to Crewe." As on their arrival Crewe station was closed for rolling-stock-taking, the boys had a fine opportunity to earn their pathfinders' and fieldcraft badges.
Donald Peniwissel was not leader of the Yeti patrol for nothing. He was prepared all right. He had equipped himself with a coach timetable and was home a fortnight before the others. Their mothers said it was the last time they would let their sons go on the bambooze.
AN you confirm that you have asked the traffic areas to check up on overwidth reefer lorries coming into Britain from abroad," a colleague asked the Department of Transport's press office after hearing a whisper to that effect.
"What do you want rue to say," came the reply amid sounds suspiciously like the crunching of an apple. -That thanks to the brilliance of CM the
DTp has added thousands of traffic inspectors? After all, there are only 1.6 million lorries on the roads in total."
"Not exactly."
Still, CM is pleased to have helped in bringing the problem of overwide fridge vans to the notice of enforcement officers. If they do block the use of 2.6m trailers, that can only benefit British hauliers.
By the way, 1.6 million lorries on the road would be quite a sight. According to DTp statistics there are rather less
than 500,000. by the Hawk