COOL BODIES,
17th August 1985
Page 23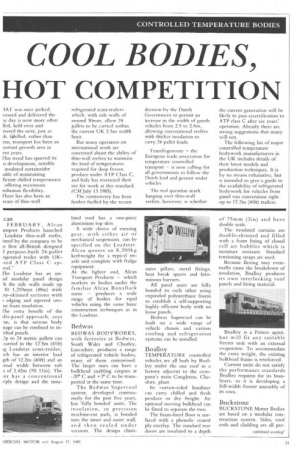 Page 23, 17th August 1985 —
COOL BODIES,
Close
HOT COMPETITION
-IAT was once picked, icessed and delivered the ac day is now more often lied, held over and ivered the next, just as ;h. rather than zen, transport has been an jortant growth area in ent years.
[his trend has spurred its n development, notably insulated curtainsider ,able of maintaining ficient chilled temperatures Offering maximum tribution flex ibility. ['here has also been an rease of thin-wall refrigerated serni-trailers which, with side walls of around 30mm, allow 24 pallets to be carried within the current UK 2.5in width limit.
But many operators on international work are concerned about the ability of thin-wall reefers to maintain the kind of terriperatures required for deep frozen produce under ATP Class C, and Italy has restricted their use for work at this standard. (CM July 13 1985).
The controversy has been further fuelled by the recent decision by the Dutch Government to permit an increase in the width of goods vehicles front 2.5 to 2.6m, allowing conventional reefers with thicker insulation to carry 24 pallet loads.
Trans frigoroute — the European trade association for temperature controlled transport — is now calling for all governments to follow the Dutch lead and permit wider vehicles.
The real question mark hanging over thin-wall reefers, however, is whether the current generation will he likely to pass recertification to ATP class C after six years' operation. Already there are strong suggestions that many will not.
The following list of major controlled temperature bodywork manufacturers in the UK includes details of their latest models and production techniques. It is by no means exhaustive, but is intended to give a guide to the availability of refrigerated bodywork for vehicles from panel van conversions right up to 12.2m (40ft) trailers.