can
17th August 1985
Page 23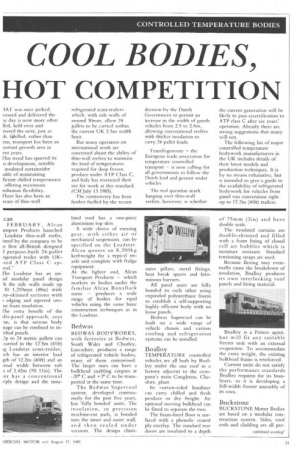 Page 24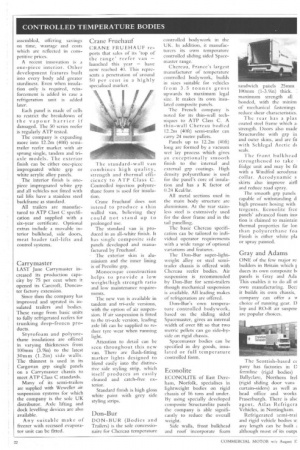 Page 25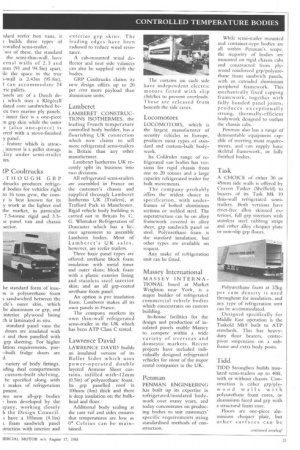 Page 26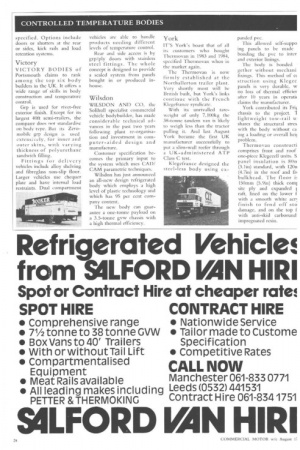 Page 23, 17th August 1985 —
can
Close
Keywords :
Mechanical Engineering
,
Engineering
,
Insulators
,
Heat Transfer
,
Food Preservation
,
Building Engineering
,
Heating, Ventilating, And Air Conditioning
,
Refrigerator Car
,
Semi-trailer
,
Polyurethane
,
Building Insulation Materials
,
Duct
FEBRUARY, Alcan import Products launched Loadstar thin-wall reefer, imed by the company to be le first all-British designed 1 purpose-built 24-pallet rigerated trailer with UKted ATP Class C ap'val."
Loadstar has an un[al modular panel design .h the side walls made up 10 1,219mm (48in) wide ay-skinned sections with edging and injected tirene foam insulation.
['he extra benefit of the ihi-panel approach, says -an, is that serious body nage can be confined to inidual panels.
Jp to 24 metric pallets can carried in the 12.5m (41ft) ig Loadstar semi-trailer, kb has an interior load gth of 12.2m (40ft) and an rnal width between rub s of 2.42m (7ft Ilin). The or has a conventional 1/ply design and the insu lated roof has A one-piece aluminium top skin.
A wide choice of running gear, with either air or mechanical suspension, can be specified on the Loadstar. Alcan quotes an 8,200kg kerb weight for a typical triaxle unit complete with fridge equipment.
At the lighter end, Alcan Transport Products — which markets its bodies under the familiar Alcan BonaHack name — produces a wide range of bodies for rigid vehicles using the same basic construction techniques as in the Loadstar.
Bedwas
BEDWAS BODYWORKS, with factories at Beclwas, South Wales and Chorley, Lancashire, produces a range of refrigerated vehicle bodies, many of them customised. The larger ones can have a bulkhead enabling cargoes at —20° C and +3° C to be transported at the same time.
The Beclwas Supercool system, developed continuously for the past five years, has 'fully bonded' units. The insulation, in precision machine-cut pads, is bonded into the inner and outer wall, and then sealed under vacuum. The design climi nates pillars, metal fixings, heat break spaces and bituminous barriers.
All panel units are fully bonded to each other using expanded polyurethane foams to establish a self-supporting highly efficient body with no loose panels.
Bedwas Supercool can be built on a wide range of vehicle chassis and various cooling and refrigeration systems can be installed.
Boalloy
TEMPERATURE controlled vehicles are all built by Boalboy under the one roof in a factory adjacent to the company's main Congleton, Cheshire, plant.
Its curtain-sided Insulincr can carry chilled and fresh produce or dry freight. An optional moving bulkhead can be fitted to separate the two.
The foam-lined floor is surfaced with a phenolic coated ply overlay. The standard rear doors are insulated to a depth of 75mrn (3in) and have double seals.
The insulated curtains are double-skinned and filled with a foam lining of closed cell air bubbles which is moisture resistant. Standard tensioning straps are used.
Because flexing may eventually cause the breakdown of insulation, Boalloy produces its own interlocking roof panels and lining material.
Boalloy is a Petters agent, but will fit any suitable freezer unit with an external evaporator. To accommodate the extra weight, the existing bulkhead frame is reinforced.
Current units do not satisfy the performance standards Boalloy requires for its Insuliners, so it is developing a full-width freezer assembly of its own.
Buckstone
BUCKSTONE Motor Bodies are based on a modular construction system. Sides, roof ends and cladding are all pre assembled, offering savings on time, wastage and costs which are reflected in cornpetitive prices.
A. recent innovation is a one-piece interior. Other development features built into every body add greater sturdiness. Even when insulation only is required, reinforcement is added in case a refrigeration unit is added later.
Each panel is made of cells to restrict the breakdown of the vapour harrier if damaged. The 50 series reefer is regularly ATP tested.
The company is expanding more into 12.2m (40ft) semitrailer reefer market with air sprung single, tandem and triaxle models. The exterior finish can be either one-piece impregnated white grp or white acrylic alloy panels.
The interior finish is onepiece impregnated white grp and all vehicles not fitted with tail lifts have a stainless steel backframe as standard.
All trailers are manufactured to ATP Clas C specification and supplied with a six-year certificate. Optional extras include a movable interior bulkhead, side doors, meat loader tail-lifts and control systems.
Carrymaster
LAST June Carrymaster increased its production capa city by 75 per cent when it opened its Carcroft, Doncaster factory extension.
Since then the company has improved and uprated its in sulated trailers and bodies. These range from basic units to fully refrigerated reefers for trunking deep-frozen products.
Styrofoam and polyurethane insulations are offered in varying thicknesses from 100rnm (3.9in) to the latest 30mm (1,2in) side walls. The thinnest is used in its Cargovan grp single panels on a Carrymaster chassis to meet ATP Class C standards.
Many of its semi-trailers are supplied with Weweller air suspension systems for which the company is the sole UK distributor. Axle lifting and dock levelling devices are also available.
Any suitable make of freezer with recessed evaporator unit can be fitted.
Crane Fruehauf
CRANE FRUEHAUF reports that sales of its 'top of the range' reefer van launched this year — have now reached 40. This represents a penetration of around 50 per cent in a highly specialised market.
The standard-wall van combines high quality, strength and thermal efficiency to ATP Class C. Controlled injection polyurethane foam is used for insulation.
Crane Fruehauf does not intend to produce a thin walled van, 'believing they could not stand up to prolonged use.
The standard van is produced in an all-white finish. It has single composite side panels developed and manufactured by Fruehauf.
The exterior skin is aluminium and the inner lining is of Pccolite grp.
MonoCoque construction helps to provide a low weight/high strength ratio and low maintenance requirements.
The new van is available in tandem and tri-axle versions, with the option of air suspension. If air suspension is fitted to the tri-axle version, leading axle lift can be supplied to reduce tyre wear when running light.
Attention to detail can be seen throughout this new van. There are flush-fitting marker lights designed to blend easily into the distinctive side styling strip, which itself produces an easily cleaned and catch-free ex terior.
Standard finish is high gloss white paint with grey side styling strips.
Don-Bur
DON-BUR (Bodies and Trailers) is the sole concessionaire for Chereau temperature controlled bodywork in the UK. In addition, it manufacturers its own temperature controlled sliding sided Spacemaster range.
Chereau, France's largest manufacturer of temperature controlled bodywork, builds in sizes suitable for vehicles Irons 3.5 tonnes gross upwards to maximum legal size. It makes its own insulated composite panels.
The French company is noted for its thin-wall techniques to ATP Class C. A Chereau bodied 12. 2m (40ft) semi-trailer can carry 24 Metre pallets.
Panels up to 12.2m (40ft) long are formed by a vacuum wet lay process which gives an exceptionally smooth finish to the internal and external grp coatings. High density polyurethane is used for the panel's core of insulation and has a K factor of 0.24 Heal/hr.
All metal sections used in the main body structure arc aluminium_ At the rear stainless steel is extensively used for the door frame and in the tail panelling.
The basic Chereau specification can be tailored to individual operator requirements with a wide range of optional variations and features.
The Don-Bur super-lightweight alloy or steel semitrailer chassis is offered with Chereau reefer bodies. Air suspension is recommended by Don-Bur for semi-trailers though mechanical suspension is available. All leading makes of refrigeration are offered.
Don-Bur's own temperature controlled bodywork, based on the sliding sided Spacemaster, gives an internal width of over 8ft so that two metric pellets can go side-byside on rigid chassis.
Spacemaster bodies can he specified in dry goods, insulated or full temperature controlled form, EconOlite ECONOLITE of East Dereham, Norfolk, specialises in lightweight bodies on rigid chassis of 16 tons and under. By using specially developed composite Structurelite panels the company is able significantly to reduce the overall weight.
Side walls, front bulkhead and roof incorporate foam sandwich panels 25rnm 100mm (1-3.9in) thick. maximum strength all bonded, with the minim of mechanical fastenings reduce shear characteristics.
The rear has a plas coated steel frame which a. strength. Doors also made Structurelite with grp in and outer skins, and are fit with Schlegal Arctic di seals.
The front bulkhead strengthened to take I fridge unit and may be fit with a Windfoil aerodynal collar. Aerodynamic s skirts also improve airfl and reduce road spray.
The smooth grp panels capable of withstanding d high pressure hosing with tergents. Econolite free panels' advanced foam insi tion is claimed to maintain thermal properties far Ion than polyurethane foa Finish is either white pla or spray painted.
Gray and Adams
ONE of the few major re. builders in Britain which duces its own composite b, panels is Gray and Ada This enables it to do all cd own manufacturing. Bec it builds its own chassis, Company can offer a NI choice of running gear. D lop arid RO-R air suspenf are popular choices.
The Scottish-based cc pany has factories in D fermline (rigid bodies) Ballyclare, Northern Irel (rigid sliding door vans curtain-siders) as well as head office and works Fraserburgh. There is alsc agent, Atlas Refrigera Vehicles, in Nottingham.
Refrigerated serni-trai and rigid vehicle bodies ill any length can be built although most of its outpi idard reefer box vans, it builds three types of i-walled semi-trailer.
:wo of these, the standard . the semi-thin-wall, have ernal walls of 2.3 and mm (91 and 94.5in) apart, ile the space in the true is 2.43m (95.8in), I can accommodate 24 :ric pallets.
'anels are of a Dutch dewhich uses a Klegecell ilated core sandwiched been two marine ply panels. inner face is a one-piece grp skin while the outer e (also one-piece) is ered with a stove-finished y panel.
, feature which is attrac; interest is a pallet storage .lity under semi-trailer ics.
tP Cooltrucks
,THOUGH GRP )1trucks produces refrige d bodies for vehicles right to 16 tons gvw, the corny is best known for its y work at the lighter end the market, in particular 7.5-tonne rigid and 3.5ie panel van and chassis sector.
he standard form of insuin is polyurethane foam s sandwiched between the cle's outer skin, which be aluminium or grp, and interior plywood lining ;:h is laminated in situ.
standard panel vans the doors are insulated with a and then panelled with grp sheeting. For higher lation requirements, pur:-built fridge doors are d.
variety of body fittings, ]ding dual compartments custom-built shelving, be specified along with t makes of refrigeration pment.
wo new all-grp bodies been developed by the ipany, working closely h the Design Council. a have a 105mm (4.1in) ‹. foam sandwich panel ;truction with interior and exterior grp skins. The leading edges have been radiused to reduce wind resistance.
A cab-mounted wind deflector and neat side valances can also be supplied with the bodies.
GRP Cooltrucks claims its new design offers up to 20 per cent more payload than aluminium units.
Lamberet
LAMBERET CONSTRUCTIONS ISOTHERMES, the leading French temperature controlled body builder, has a flourishing UK connection which now claims to sell more refrigerated semi-trailers in Britain than any other manufacturer, Lamberet Isotherms UK recently split its business into two divisions.
All refrigerated semi-trailers are assembled in France on the customer's chassis and supplied through Lamberet Isotherms UK (Trailers), at Trafford Park in Manchester. Rigid vehicle body building is carried out in Britain by C.
G. Whittaker Refrigeration of Doncaster which has a lic ence agreement to assemble Lamberet bodies. Most of Lamberet's UK sales, however, are reefer trailers.
Three basic panel types are offered: urethane block foam insulation with metal inner and outer skins; block foam with a plastic exterior lining and stainless steel interior skin; and an all grp-coated urethane foam panel.
An option is pvc insulation foam. Lamberet makes all its own panels in France.
The company markets its own thin-wall refrigerated semi-trailer in the UK which has been ATP Class C tested.
Lawrence David
LAWRENCE DAVID builds an insulated version of its Roller Sider which uses power-operated double layered Armour Sheet curtains, infilled with-12nam (0.5in) of polyurethane foam. Its grp panelled roof is 100mm (4m) thick and there is deep insulation on the bulkhead and floor.
Additional body sealing at the cant rail and sides ensures that temperatures are low as 0° Celsius can be maintained. The curtains on each side have independent electric motors fitted with slip clutches to prevent overloads. These arc released from beneath the side raves.
Loco motors
LOCOMOTORS, which is the largest manufacturer of security vehicles in Europe, produces most types of standard and custom-built bodywork.
Its Coldrider range of refrigerated van bodies has versions for rigid chassis from one to 20 tonnes and a large capacity refrigerated trailer for bulk movements.
The company probably offers the widest choice in specification, with underframes of bolted aluminium sections or welded steel. The superstructure can be on alloy framework covered in alloy sheet, grp sandwich panel or steel. Polyurethane foam is the standard insulation, but other types are available on request.
Any make of refrigeration unit can be fitted.
Massey International
MASSEY INTERNATIONAL based at Market Weighton near York, is a major builder of refrigerated commercial vehicle bodies which concentrates on custom building.
In-house facilities for the design and production of insulated panels enable Massey to compete within a wide variety of overseas and domestic markets. Recent projects have included individually designed refrigerated vehicles for most of the major rental companies in the UK.
Penman
PENMAN ENGINEERING has built up its expertise in refrigerated/insulated bodywork over many years, and today concentrates on producing bodies to suit customers' specific requirements using standardised methods of construction. While semi-trailer mounted arid container-type bodies are all within Penman's scope, the majority of bodies are mounted on rigid chassis cabs and constructed from plywood reinforced grp/polyurethane foam sandwich panels, with an extruded aluminium peripheral framework. This mechanically fixed capping framework, together with fully bonded panel joints, produces exceptionally strong, thermally-efficient bodywork designed to outlast the chassis cabs.
Penman also has a range of demountable equipment capable of meeting most requirements, and can supply basic skeletal framework, or fully finished bodies.
Task
A CHOICE of either 30 or 45min side walls is offered by Craven Tasker (Sheffield) to buyers of its Task Mk 10 thin-wall refrigerated semitrailers. Both versions have rivet-free alloy skinned exteriors, full grp interiors with stainless steel rubbing strips and either alloy chequer plate or non-slip grp floors.
Polyurethane foam at 32kg per cum density is used throughout for insulation, and any type of refrigeration unit can be accommodated.
Designed specifically for Middle East operation is the Taskold Mk9 built to ATP standards. This has heavyduty floor bearers, centrepivot suspension on a subframe and extra body posts.
Tidd
TIDD Strongbox builds insulated semi-trailers up to 40ft, with or without chassis. Construction is either grp/plywood walls with polyurethane foam cores, or aluminium faced and grp with a structural foam core.
Floors are one-piece aluminium chequer plate, but ocher surfaces can be specified. Options include doors or shutters at the rear or sides, kick rails and load retention systems.
Victory
VICTORY BODIES of Portsmouth claims to rank among the top six body builders in the UK. It offers a wide range of skills in body construction and temperature control.
Grp is used for rivet-free exterior finish. Except for its largest 40ft semi-trailers, the company does nOt standardise on body type. But its Zeromobile grp design is used extensively, for inner and outer skins, with varying thickness of polyurethane sandwich Fittings for delivery. vehicles include alloy shelving and fibreglass non-slip floor. Larger vehicles use chequer plate and have internal load restraints. Dual compartment
vehicles are able to handle products needing different levels of temperature control.
Rear and side access is by grp/ply doors with stainless steel fittings. The whole concept is designed to provide a sealed system from panels bought in or produced inhouse.
Wilsdon
WILSDON AND CO, the Solihull specialist commercial vehicle bodybuilder, has made considerable technical advances in the past two years following plant re-organisation and investment in computer-aided design and manufacture.
Customer specification becomes the primary input to the system which uses CAD/ CAM parametric techniques.
Wilsdon has just announced an all-new design refrigerated body which employs a high level of plastic technology and which has 95 per cent company content.
The new body can guarantee a one-tonne payload on a 3.5-tonne gvw chassis with a high thermal efficiency.
York
IT'S York's boast that of all its customers who bought Thermovan in 1983 and 1984, specified Thermovan when in the market again.
The Thermovan is now firmly established at the Northallerton trailer plant. Very shortly most will be British built,. hut York's links continue with the French X legefrance syndicate.
With its unrivalled tareweight of only 7,100kg the 38-tonne tandem van is likely to weigh less than the tractor pulling it. And last August York became the first UK manufacturer successfully to put a slim-wall reefer through a UK-administered ATP Class C test.
Klegefrance designed the steel-less body using ex panded pve.
This allowed self-suppo ing panels to be made bonding the pvc to inter and exterior linings.
The body is bonded • gether without mechani fixings. This method of a scruction using Klegec panels is very durable, w no loss of thermal efficier after 10 years in operati( claims the manufacturer.
York contributed its Fri chassis to the project. lightweight tow-rail u: shares the structural stres with the body without ea ing a loading or overall problem.
Thermovan constructi comprises front and roof one-piece Klegecell units. S panel insulation is 80n (3.1in) standard, with 120n (4.7in) in the roof and fri bulkhead. The floor i! 150mm (5.9in) thick corm site ply and expanded raft, lined on the lower f with a smooth white acri finish to fend off sto damage, and on the top f with anti-skid carborundimpregnated resin.