VYF'TE fears dereg
17th August 1985
Page 17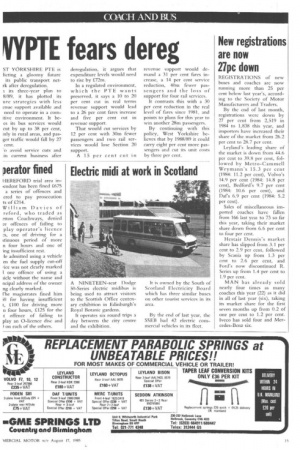 Page 17, 17th August 1985 —
VYF'TE fears dereg
Close
ST YORKSHIRE PTE is licting a gloomy future its public transport nark after deregulation.
-1 its three-year plan to 8/89, it has plotted its tire strategies with less enue support available and need to operate in a cornfive environment. It bees its bus services would cut by up to 38 per cent, Lilly in rural areas, and pasger traffic would fall by 27 cent.
'o avoid service cuts and in current business after deregulation, it argues that expenditure levels would need to rise by £72m.
In a regulated environment, which the PTE wants preserved, it says a 10 to 20 per cent cut in real terms revenue support would lead to a 26 per cent Fares increase and five per cent cut in revenue support.
That would cut services by 12 per cent with 30m fewer passengers and two rail services would lose Section 20 support.
A 15 per cent cut in revenue support would demand a 31 per cent fares increase, a 14 per cent service reduction, 40m fewer passengers and the loss of support for four rail services.
It contrasts this with a 30 per cent reduction in the real level of fares since 1981, and points to plans for this year to win another 28m passengers.
By continuing with this policy, West Yorkshire believes that by 1988/89 it could carry eight per cent more passengers and cut its unit costs by three per cent.