Waugh, Waugh to jaw-jaw for Labour
17th August 1985
Page 16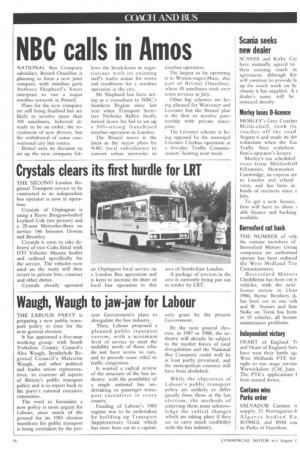 Page 16, 17th August 1985 —
Waugh, Waugh to jaw-jaw for Labour
Close
THE LABOUR PARTY is preparing a new public transport policy in time for the next general election.
It has appointed a five-man working group, with South Yorkshire County Council's Alex Waugh, Strathclyde Regional Council's Malcolm Waugh, and other political and trades union representatives, to examine all aspects of Britain's public transport policy and is to report back to the party's national executive committee.
The need to formulate a new policy is most urgent for Labour, since much of the ground for its 1983 election manifesto for public transport is being overtaken by the pre sent Government's plans to deregulate the bus industry.
Then, Labour proposed a planned public transport system, with a minimum level of service to meet the mobility needs of those who do not have access to cars, and to provide some relief to traffic congestion.
It wanted a radical review of the structure of the bus industry, with the possibility of a single national bus undertaking or passenger transport executives in every county.
Funding of Labour's 1983 regime was to be undertaken by building up Transport Supplementary Grant which has since been cut to a capital only grant by the present Government.
By the next general election, in 1987 or 1988, the industry will already be subject to the market forces of total deregulation and the National Bus Company could well be at least partly privatised, and the metropolitan counties will have been abolished.
While the objectives of Labour's public transport policy are unlikely to differ greatly from those at the last election, the methods of achieving them must acknowledge the radical changes which are taking place if they are to carry much credibility with the bus industry.