Brewer's Volvo Fls shunt in packs
17th August 1985
Page 14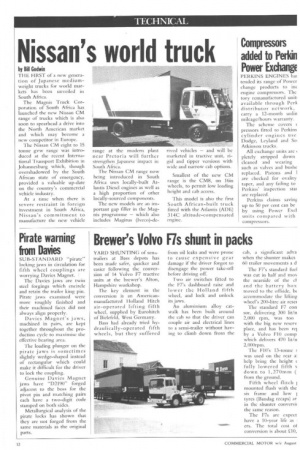 Page 14, 17th August 1985 —
Brewer's Volvo Fls shunt in packs
Close
YARD SHUNTING of senii. trailers at Bass depots has been made safer, quicker and easier following the conversion of 14 Volvo F7 tractive units at the brewer's Alton, Hampshire workshop.
The key element in the conversion is an Americanmanufactured Holland Hitch air-operated lifting fifth wheel, supplied by Eurohitch of Bielefeld, West Germany.
Bass had already tried hydraulically-operated fifth wheels, but they suffered from oil leaks and were prone to cause expensive gear damage if the driver forgot to disengage the power take-oft before driving off.
Two air switches fitted to the F7's dashboard raise and lower the Holland fifth wheel, and lock and unlock its jaws.
An aluminium alloy catwalk has been built around the cab so that the driver can couple air and electrical lines to a semi-trailer without having to climb down from the cab, a significant adva when the shunter makes 60 trailer movements a d The F7's standard fuel was cut in half and mca) the nearside of the cland the battery box moved to the offside, bc accommodate the lifting wheel's 200-litre air reset The standard F7 con sor, delivering 300 lit/n 2,000 rpm, was too with the big new reserv place, and has been rdl by a Volvo F10 comp which delivers 470 lit/n 2,00Orpm.
The F10's 13-tonne was used on the rear a: help bring the height c fully lowered fifth N down to 1,270mrn ( from the ground.
Fifth wheel flitch I mounted flush with the sis frame and low tyres (Bandag recaps) ar in the shunter conversic the same reason.
The F7s are expect have a 10-year life as : ers. The total cost of conversion is about £10,