Conviction overturned
17th August 1985
Page 12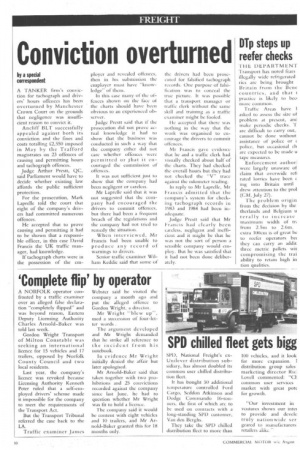 Page 12, 17th August 1985 —
Conviction overturned
Close
by a special correspondent
A TANKER firm's conviction for tachograph and drivers' hours offences has been overturned by Manchester Crown Court on the grounds that negligence was insufficient reason to convict it.
Ancliff BLT successfully appealed against both its conviction and the fines and costs totalling £2,550 imposed in May by the Trafford magistrates on 23 offences of causing and permitting hours and tachograph offences.
Judge Arthur Prestt, QC, said Parliament would have to decide whether existing law affords the public sufficient protection.
For the prosecution, Mark Laprelle told the court that eight of the company's drivers had committed numerous offences.
He accepted that to prove causing and permitting it had to be shown that a responsible officer, in this case David Francis the UK traffic manager, had knowledge.
If tachograph charts were in the possession of the em
ployer and revealed offences, then in his submission the employer must have "knowledgeof them.
In this case many of the offences shown on the face of the charts should have been obvious to an experienced observer.
Judge Prestt said that if the prosecution did not prove actual knowledge it had to show that the business was conducted in such a way that the company either did not care whether offences were permitted or yhat it encouraged the commission of offences.
It was not sufficient just to show that the company had been negligent or careless.
Mr Laprelle said that it was not suggested that the company had encouraged the drivers to commit offences, but there had been a frequent breach of the regulations and the company had not tried to remedy the situation.
When interviewed, Mr Francis had been unable to produce any record of warnings to drivers.
Senior traffic examiner William Keddie said that sonic of the drivers had been prosecuted for falsified tachograph records. One purpose of falsification was to conceal the true picture. It was possible that a transport manager or traffic clerk without the same skill and training as a traffic examiner might be fooled.
He accepted that there was nothing in the way that the work was organised to encourage the drivers to commit offin1Ces.
Mr Francis gave evidence that he and a traffic clerk had visually checked about half of the charts. They had checked the overall hours but they had not checked the "V" trace against the odometer reading.
In reply to Mr Laprelle, Mr Francis admitted that the company's system for checking tachograph records in 1983 and 1984 had been inadequate.
Judge Prestt said that Mr Francis had clearly been careless, negligent and inefficient and it might be that he was not the sort of person a sensible company would employ. But he was satisfied that it had not been done deliberately.