'Complete flip' by operator
17th August 1985
Page 12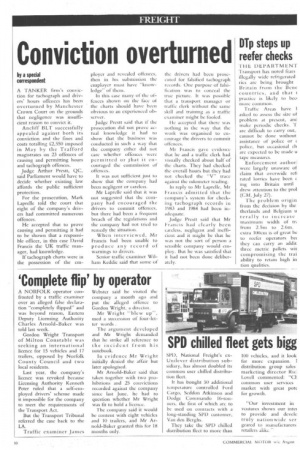 Page 12, 17th August 1985 —
'Complete flip' by operator
Close
A NORFOLK operator confronted by a traffic examiner over an alleged false declaration "completely flipped" and was beyond reason, Eastern Deputy Licensing Authority Charles Arnold-Baker was told last week.
Gordon Wright Transport of Milton Constable was seeking an international licence for 15 vehicles and 17 trailers, opposed by Norfolk County Council and two local residents.
Last year, the company's licence was revoked because Licensing Authority Kenneth Peter ruled that a self-employed drivers' scheme made it impossible for the company to meet the requirements of the Transport Act.
But the Transport Tribunal referred the case back to the LA.
Traffic examiner James Webster said he visited the company a month ago and put the alleged offence to Gordon Wright,. a director.
Mr Wright "blew up", used a succession of four-letter words The argument developed and Mr Wright demanded that he strike all reference to the incident from his notebook.
In evidence Mr Wright initially denied the affair but later apologised.
Mr Arnold-Baker said that taken together with two prohibitions and 25 convictions recorded against the company since last June, he had to question whether Mr Wright was fit to hold a licence.
The company said it would be content with eight vehicles arid 10 trailers, and Mr Arnold-Baker granted this for 18 months only.