env famine looms
17th August 1985
Page 11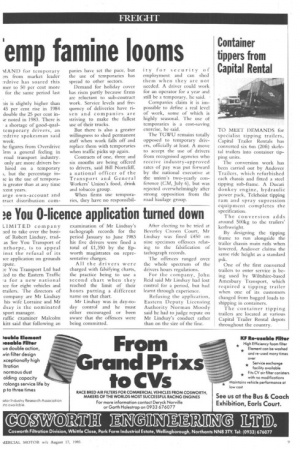 Page 11, 17th August 1985 —
env famine looms
Close
VIAND for temporary rs from market leader !rdrive has soared this user to 50 per cent more for the same period last ais is slightly higher than 45 per cent rise in 1984 double the 25 per cent inre noted in 1983. There is a shortage of good-qualtemporary drivers, an rdrive spokesman said week.
he figures from Overdrive irm a general feeling in road transport industry. only are more drivers behired on a temporary ;, but the percentage inse in the use of ternporais greater than at any time cent years.
arge own-account and tract distribution corn panics have set the pace, but the use of temporaries has spread to other sectors.
Demand for holiday cover has risen partly because firms are reluctant to sub-contract work. Service levels and frequency of deliveries have risen and companies are striving to make the fullest use of their trucks.
But there is also a greater willingness to shed permanent staff when work falls off and replace them with temporaries when traffic picks up again.
Contracts of one, three and six months are being offered to drivers, said Bill Norteliff, a national officer of the Transport and General Workers' Union's food, drink and tobacco group.
When firms use temporaries, they have no responsibil ity for security of employment and can shed them when they are not needed. A driver could work for an operator for a year and still be a temporary, he said. • Companies claim it is impossible to define a real level of work, some of which is highly seasonal. The use of temporaries is a cost-saving exercise, he said.
The TGWU remains totally opposed to temporary drivers, officially at least. A move to accept the use of drivers from recognised agencies who receive industry-approved rates of pay was put forward by the national executive at the union's two-yearly conference (CM, July 6), but was rejected overwhelmingly after strong opposition from the road haulage group.