?e You 0-licence application turned down
17th August 1985
Page 11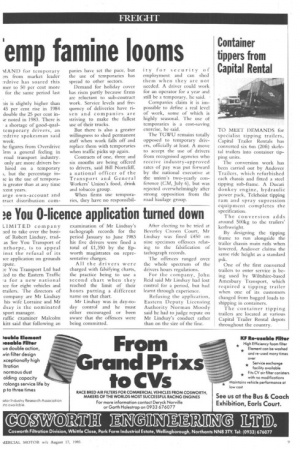 Page 11, 17th August 1985 —
?e You 0-licence application turned down
Close
LIMITED company led to take over the busiof Robert Lindsay, midas See You Transport of nthorpe, is to appeal inst the refusal of its ice application on grounds x You Transport Ltd had ied to the Eastern Traffic !a for a new national ice for eight vehicles and trailers. The directors of company are Mr Lindsay his wife Lorraine and Mr dsay is the nominated sport manager.
raffle examiner Malcolm kitt said that following an examination of Mr Lindsay's tachograph records for the period January to June 1983 his five drivers were fined a total of £1,350 by the Epworth magistrates on representative charges.
All the drivers were charged with falsifying charts, the practice being to use a second chart when they reached the limit of their hours putting a different name on that chart.
Mr Lindsay was in day-today control and he must either encouraged or been aware that the offences were being committed. After electing to be tried at Beverley Crown Court, Mr Lindsay was fined £450 on nine specimen offences relating to the falsification of tachograph records.
The offences ranged over the whole spectrum of the drivers hours regulations.
For the company, John Reid said Mr Lindsay had lost control for a period, but had learnt through experience.
Refusing the application, Eastern Deputy Licensing Authority Norman Moody Said he had to judge repute on Mr Lindsay's conduct rather than on the size of the fine.