New directors for Bedford
17th August 1985
Page 10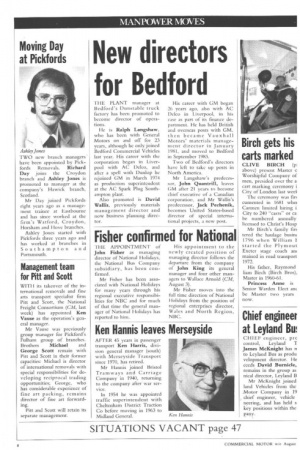 Page 10, 17th August 1985 —
New directors for Bedford
Close
THE PLANT manager at Bedford's Dunstable truck factory has been promoted to become director of operations.
He is Ralph Langshaw, who has been with General Motors on and off for 23 years, although he only joined Bedford Commercial Vehicles last year. His career with the corporation began in Liverpool with AC Delco, and after a spell with Dunlop he rejoined GM in March 1974 as production superintendent at the AC Spark Plug Southampton plant.
Also promoted is David Wallis, previously materials management director and now business planning director.
His career with GM began 26 years ago, also with AC Delco in Liverpool, in his case as part of its finance department. He has held British and overseas posts with GM, then became Vauxhall Motors' materials management director in January 1981, and moved to Bedford in September 1983.
Two of Bedford's directors have left to take up posts in North America.
Mr Langshaw's predecessor, John Quantall, leaves GM after 21 years to become chief executive of a Canadian corporation, and Mr Wallis's predecessor, Jack Pechenik, becomes United States-based director of special international projects, a new post.