Vulcan Re-enters the Tipping-vehicle Market
17th August 1945
Page 25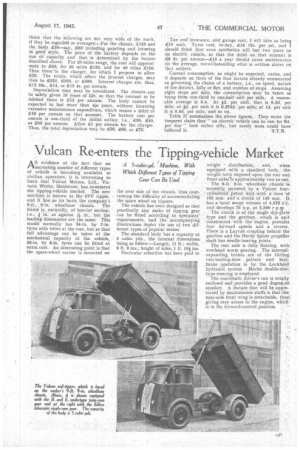 Page 25, 17th August 1945 —
Vulcan Re-enters the Tipping-vehicle Market
Close
A 5-cubic-yd. Machine, With Which Different Types of Tipping Gear Can Be Used AS evidence of the fact • that an increasing number of different types of vehicle is becoming available to civilian operators, it is. interesting to learn that Vulcan Motors, Ltd., Victoria Works, Maidstone, has re-entered the tipping-vehicle market. The new machine is known as the 6VP tipper, and it has. as its basis the company's 9-ft. 9-in: wheelbase chassis. The frame is, naturally, of heavier section, i.e., I in. as against A in:, but the leading dimensions are the same. This model normally has 34-in. by 7-in. tyres with twins at the rear, but so that full advantage can be taken of the mechanical capacity of the vehicle, 36-in. by 8-in. tyres can be fitted at extra cost. An interesting point is that the spare-wheel carrier is mounted on
the neas side of the chassis, thus overcoming the difficulty of accommodating the spare wheel on tippers.
The vehicle has been designed so that practically, any make of tipping gear can be. fitted according to operators' requirements, and the accompanying illustrations depict the use of two dif: ferent types of popular makes. The standard body has a capacity of
5 cubic yds., the internal dimensions being as follow:—Length, ft.;_ width,
6 ft. 9 ins.; height of sides, 1 ft. 101 ins. Particular attention has been paid to
weight distribution, and, when equipped with a standard body, theweight ratio imposed upon the rear and front axlesis approximately two to one.
The 9-ft. 9-in. wheelbase chassis' is normally powered. by -a Vulcan fourcylindered petrol unit with a bore of 102 mm. and a stroke of 140 mm. It has a total swept volume of 4,576
and develops 78 hp. at 2,800 r p.sp
The clutch is of the single dry-iilate type and the gearbox, which is unit constructed with the engine, provides four forward speeds and a reverse. There is a Layrub coupling behind the gearbox and the Hardy Spicer propeller shaft has needle-bearing joints. The rear axle is fully floating, with. overhead worm gearing. The internalexpanding brakes are of the Girling two-leading-shoe pattern and foot. brake operation is by the .Lockheed hydraulic system Marles double-rowtype steering is employed. The coaclibuilt driver's cab is totally enclosed and provides a good degree Of, comfort. A feature that will be appreciated by maintenance staffs is that the near-side front wing is detachable, thus giving easy access to the engine, which is in the forward-control position.