Personal Pars
17th August 1945
Page 18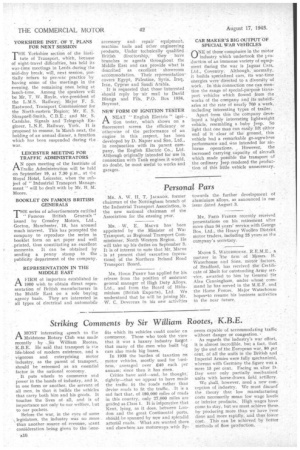 Page 18, 17th August 1945 —
Personal Pars
Close
MR. A. W. H, T. JACKSON, former chairman of the Nottingham branch of the Industrial Transport Association, is the new national chairman of the Association for the ensuing year.
MR.W. E. MACVE has been appointed' by the Minister of War Transport, as Regional Transport CommisSioner, North Western Region. He will take up his duties on September 3. It is of interest to note that Mr. Macve is at present chief executive (operations) of the Northern Iteland Road Transport Board.
MR. iiUGII PERRY has applied for his release from the position of assistant general manager of High Duty Alloys, Ltd., and from the Board of Hiduminium (British Exports), Ltd. We understand that he will be joining Mr. W. C. Devereux in his new activities
towards the further developmeat of aluminium alloys, as announced in our issue dated August 3.
MR, FRED FISHER recently received 'presentations on his retirement after more than 84 years' service with George Box, Ltd., the Heavy Woollen District. motor traders, including 25 years as the company's secretary.
MAJOR S. WATERHOUSE, R.E.M.E., a partner in The firm Of Messrs. B. Waterhouse and Sons, motor factors. of Bradford, has received the Cettift: cate of Merit for outstanding Army service, awarded to him by General Sir Alan Cunningham, under whose, command he has served in the M.E.F. and the Home Forces. Major Waterhouse hopessto resume his business activities in the near future.