One Hears
17th August 1945
Page 15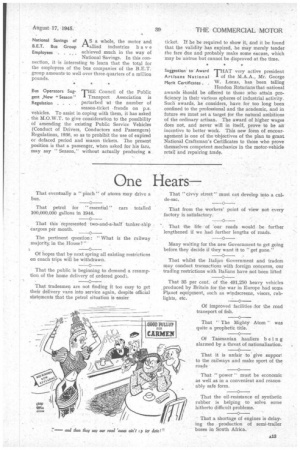 Page 15, 17th August 1945 —
One Hears
Close
That eventually a " pinch " of atoms may drive a bus.
That petrol for " essential"ca.rs totalled 100,000,000 gallons in 1944.
That this 'represented two-and-a-hall tanker-ship • cargoes per month.
The pertinent question : "What is the railway majority in the House?"
Of hopes that by next spring all existing restrictions on coach trips will be withdrawn.
That the public is beginning to demand a resumption of the home delivery of ordered goodi That tradesmen are not finding it too easy to get their delivery vans into service again, despite official statements that the petrol situation is easier That "civvy street" must not develop into a culde-sac.
That from the workers' point of view not every factory is satisfactory.
That the life of our roads would be further lengthened if we had further lengths of roads.
Many waiting for the new Government to get going before they decide if they want it to "get gone."
That whilst the Italian Government and traders may conduct transactions with foreign concerns, our trading restrictions with Italians have not been lifted
That 35 per cent: of the 491,250 heavy vehicles .produced by Britain for the war in Europe had some Planet equipment; such as windscreens, visors, cablights, etc.
Of improved facilities for the road transport of fish.
That The Mighty Atom" was quite a prophetic title.
Of Tasmanian hauliers be in g alarmed by a threat of nationalization.
That it is unfair to give suppori to the railways and make sport of the roads That " power" must be economic as well as in a convenient and reasonably safe form.
That the oil-resistance of synthetic rubber is helping to solve some hitherto difficult problems.
That a shortage of engines is delaying the production of semi-trailer buses in South Africa.