Refrain From Demanding Luxury
17th August 1945
Page 14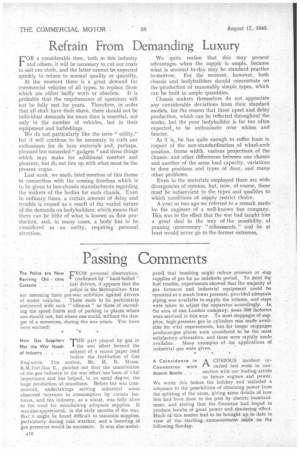 Page 14, 17th August 1945 —
Refrain From Demanding Luxury
Close
COR a considerable time, both in this industry and others, it will be necessary to cut our coats to suit our cloth, and the latter cannot be expected quickly to return to normal quality or quantity. At the moment there is a great demand for commercial vehicles of all types, to replace those which are either badly worti or obsolete. It is probable that the requirements of operators will not be fully met for years. Therefore, in order that all shall have their share, there should not be individual demands for more than is essential, not only in the number of vehicles, hut in their equipment and furbishings.
We do not particularly like the term " utility," but it will continue to be necessary to curb. our enthusiasm for de luxe materials and, perhaps, pleasant but unneeded" gadgets "and those things which may make for additional comfort and pleasure, but do not line up with what must be the present vogue.
Last week, we made brief mention of this theme in connection with the coming freedom which is to be given to bus-chassis manufacturers regarding the makers of the bodies for such chassis. Even in ordinary times, a certain amount of delay and trouble is caused as a result of the varied nature of the demands on bodybuilders, which means that there can be little of what is known as flow production, and, in many cases, a body has to be considered as an 'entity, requiring personal attention. We quite realize that this may -present advantages when the supply is ample, because what is unusual to-day may be standard practice to-morrow. For the moment, however, both chassis and bodybuilders should concentrate on the production of reasonably simple types, which can be built in ample quantities.
Chassis makers themselves do not appreciate any considerable deviations from their standard models, for the reason that these upset and delay production, which can be reflected throughout the works, but the poor bodybuilder is far too often expected., to be enthusiastic over whims and fancies.
As it is,. he has quite enough to suffer from in respect of the non-standardization of wheel-arch position, frame width, various projections of the chassis, and other differences between one chassis and another of the same load capacity, variations in door positions and types of door, and many other problems.
Even in the materials employed there are wide divergencies of opinion, but, now, of course, these must be subservient to the types and qualities to which conditions of supply restrict choice.
A year or two ago-we referred to a remark made ;• by the engineer, of a well-known bus company. This was to the effect that the war had taught him a great deal in the way of the possibility, of pruning unnecessary " rehneulents," and he at least would never go to the former extremes.