_ ONE HEARS
17th August 1920
Page 3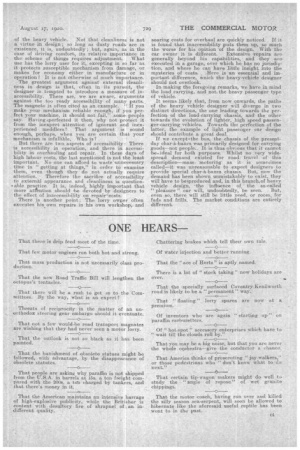 Page 3, 17th August 1920 —
_ ONE HEARS
Close
That there is drip feed most of the time.
That few motor engines run 'both hot and strong.
That mass production is not necessarily class pro cluction.
That the new Road Traffic Bill will lengthen the octopus's tentacles.
That there will be a rush to get an to the Committees. By the way, what is an expert'?
• Threats of reciprocity in the matter of an unorthodox steering gear embargo should it eventuate.
That not a few would-be road transport magnatea are wishing that they had never seen a motor lorry.
That the outlook is not so black as it has been painted.
That the banishment of obsolete statues might be followed, with advantage, by the disappearance of obsolete statutes.
That people are asking why paraffin is not shipped from the U.S.A. in barrels at 15s, a ton freight compared with the 200s. a tan charged by tankers, and that there's money in it.
That the American maintains an intensive barrage of high-explosive publicity, While the Britisher is content with desultory fire of shrapnel. oft an in different quality. . Chattering brakes which tell their own tale.
Of water injection and better running.
That the "ace of Herta" isaptly named.
'There is a lot of " stock taking" now holidays are
over'. ••••
That the -specially surfaced Coventry-Kenilworth road is likely to 'be a " permanent" way.
That "floating" lorry spares are now at a premium.
Of inventors who are again starting up" on paraffin carburetters.
Of " hot-spot " accessory enterprises which have, to . " wait till the clouds roll by."
That you may be a big noise, but that you are never the whole orchestra—give the conduetoP a chance.
That America thinks of prosecuting "jay-walkers,' or those pedestrians who " don't know what to do next."
That Certain tip-wagon makers might do well to study the "angle' of repose." of wet granite chippings.
That the motor -coach, having run over and killed the silly season sea-serpent, will soon be allowed to hibernate like the aforesaid useful reptile has been wont tri in the vast.