AN OIL INDICATOR FOR FORDS.
17th August 1920
Page 20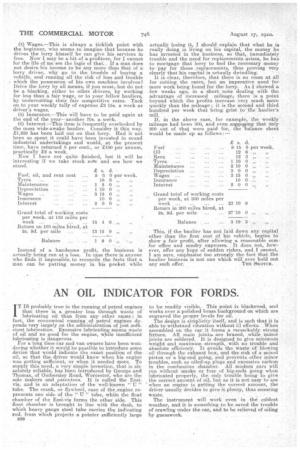 Page 20, 17th August 1920 —
AN OIL INDICATOR FOR FORDS.
Close
IT IS probably true in the running of petrol engines -that' there is a. greater loss through waste of labrieating oil than from any other cause ; in feet, the economical running of petrol engines depends very largely on the administration of just sufficient lubrication. Excessive lubricating means waste of oil and no good for the engine, whale insufficient
lubricating is dangerous. .
For a-long time car and van -owners have been wondering whether it would be possible to introduce some device that would indicate -the exact position of the oil, so that the. driver would know when his engine was getting sufficient, or when it needed more. To supply this need, a very siipple invention, that is absolutely reliable, has been introduced by George and Thomas, , of Ombersley Road, Worcester, who are the sole makers and patentees. It is called the Eesivis, and is an adaptation of the well-known " U" tube. The crank, or flywheel, ease -of the.engine represents one side of the U" tube, while the float chamber of the Eesi-vis forms the other side. This float chamber is brought in line with the dash, to which heavy gauge steel tube carries the indicating rod, from which projects a pointer sufficiently large B26 . to be readily visible. This point is blackened, and works over a, polished brass background on which are engraved the proper levels for oil.
The design is siniplicity itself, and is such that it is able to withstand vibration without ill effects. . When assembled on the car it forms a remarkably, strong fixture.. All main joints. are brazed, while .minor joints are soldered. It is designed to give minimum weight and maximum strength, with no trouble and absolute Aden* It avoids the waste of bloWing oil through the exhaust box, and the risk of a seized piston or a big-end going, and prevents other minor troubles, such asoiled-up Plugs and excessive carbon in the combustion chamber. All modern cars will run without snaoke or "fear of big-ends going when lubricated properly, the Only trouble being to give the correct amount of oil, but as it is not" easyto see when an engine is getting the correct amount, the driver usually decides to. give it plenty, thus ensuring
waste. . .
The instrument will work even in the coldest weather, and it is something to be saved the trouble of crawling under the car, and to be relieved of oiling by guesswork.