Get orgenised to benefit from YTS youngsters
17th April 1997
Page 79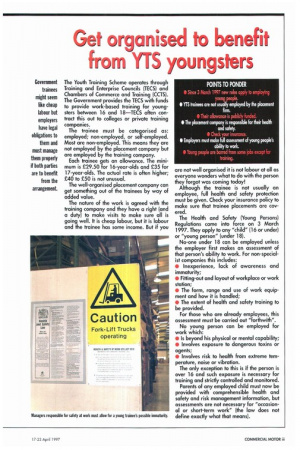 Page 79, 17th April 1997 —
Get orgenised to benefit from YTS youngsters
Close
The Youth Training Scheme operates through Training and Enterprise Councils (TECS) and Chambers of Commerce and Training (CCTS). The Government provides the TECS with funds to provide work-based training for youngsters between 16 and 18—TECS often contract this out to colleges or private training companies.
The trainee must be categorised as: employed; non-employed, or self-employed. Most are non-employed. This means they are not employed by the placement company but are employed by the training company. Each trainee gets an allowance. The minimum is £29.50 for 16-year-olds and £35 for 17-year-olds. The actual rate is often higher; £40 to £50 is not unusual.
The well-organised placement company can get something out of the trainees by way of added value.
The nature of the work is agreed with the training company and they have a right (and a duty) to make visits to make sure all is going well. It is cheap labour, but it is labour and the trainee has some income. But if you are not well organised it is not labour at all as everyone wonders what to do with the person they forgot was coming today!
Although the trainee is not usually an employee, full health and safety protection must be given. Check your insurance policy to make sure that trainee placements are covered.
The Health and Safely (Young Persons) Regulations came into force on 3 March 1997. They apply to any "child" (16 or under) or "young person" (under 18).
No-one under 18 can be employed unless the employer first makes an assessment of that person's ability to work. For non-specialist companies this includes: • Inexperience, lack of awareness and immaturity; • Fitting-out and layout of workplace or work station; • The form, range and use of work equipment and how it is handled; • The extent of health and safety training to be provided. For those who are already employees, this assessment must be carried out "forthwith".
No young person can be employed for work which: • Is beyond his physical or mental capability; • Involves exposure to dangerous toxins or agents; • Involves risk to health from extreme temperature, noise or vibration. The only exception to this is if the person is over 16 and such exposure is necessary for training and strictly controlled and monitored.
Parents of any employed child must now be provided with comprehensible health and safety and risk management information, but assessments are not necessary for "occasional or short-term work" (the law does not define exactly what that means).