It
17th April 1997
Page 77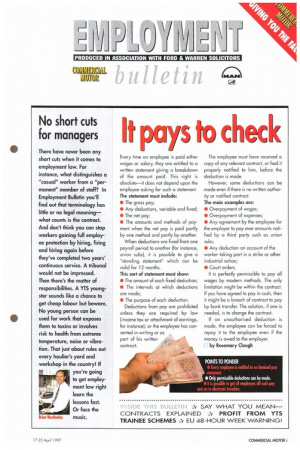 Page 77, 17th April 1997 —
It
Close
ys to check
Every time an employee is paid either wages or salary, they are entitled to a written statement giving a breakdown of the amount paid. This right is absolute—it does not depend upon the employee asking for such a statement. The statement must include: • The gross pay; • Any deductions, variable and fixed; • The net pay;
• The amounts and methods of payment when the net pay is paid partly by one method and partly by another.
When deductions are fixed from one payroll period to another (for instance, union subs), it is possible to give a "standing statement" which can be valid for 12 months.
This sort of statement must show:
• The amount of each fixed deduction; • The intervals at which deductions are made; • The purpose of each deduction.
Deductions from pay are prohibited unless they are required by law Iincome tax or attachment of earnings, for instance); or the employee has consented in writing or as part of his written contract. The employee must have received a copy of any relevant contract, or had it properly notified to him, before the deduction is made.
However, some deductions can be made even if there is no written authority or notified contract.
The main examples are: • Overpayment of wages; • Overpayment of expenses;
• Any agreement by the employee for the employer to pay over amounts notified by a third party such as union subs;
• Any deduction on account of the worker taking part in a strike or other industrial action; • Court orders.
It is perfectly permissible to pay all wages by modern methods. The only limitation might be within the contract. If you have agreed to pay in cash, then it might be a breach of contract to pay by bank transfer. The solution, if one is needed, is to change the contract.
If an unauthorised deduction is made, the employee can be forced to repay it to the employee even if the money is owed to the employer.
by Rosemary Clough