Police 'will impound' at Dover blockade
17th April 1997
Page 6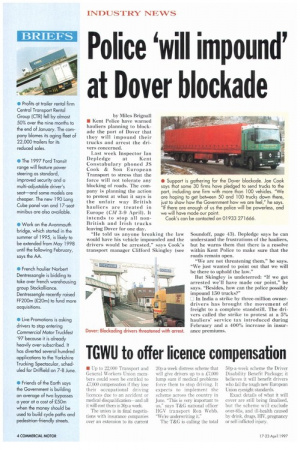 Page 6, 17th April 1997 —
Police 'will impound' at Dover blockade
Close
by Miles Brignall • Kent Police have warned hauliers planning to blockade the port of Dover that they will impound their trucks and arrest the drivers concerned.
Last week Inspector Ian Depledge at Kent Constabulary phoned JS Cook & Son European Transport to stress that the force will not tolerate any blocking of roads. The company is planning the action to protest at what it says is the unfair way British hauliers are treated in Europe (CM 3-9 April). It intends to stop all nonBritish and Irish trucks leaving Dover for one day.
"He told us anyone breaking the law would have his vehicle impounded and the drivers would be arrested," says Cook's transport manager Clifford Skingley (see Soundoff, page 43). Depledge says he can understand the frustrations of the hauliers, but he warns them that there is a resolve within Kent Police to make sure that the roads remain open.
"We are not threatening them," he says. "We just wanted to point out that we will be there to uphold the law."
But Skingley is undeterred: "If we get arrested we'll have made our point," he says. "Besides, how can the police possibly impound 150 trucks?"
LI In India a strike by three-million ownerdrivers has brought the movement of freight to a complete standstill. The drivers called the strike to protest at a 5% hauliers' service tax introduced during February and a 400% increase in insurance premiums.