r r
17th April 1997
Page 52
Page 53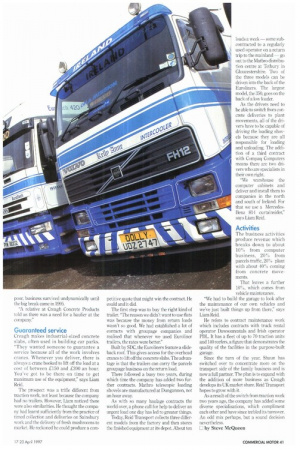 Page 52, 17th April 1997 —
r r
Close
all about
For most hauliers having one speciality is enough but Reid Transport in Northern Ireland is prepared to stop at nothing—parcels, computers, plant equipment: you name it, they'll have a go...
It might seem an odd combination of products to specialise in at first glance, but for Ballymena-based Reid Transport, the mix of industrial concrete slabs, telescopic loading shovels. and computer hardware works very nicely indeed. From September until April we are particularly busy with the Matbrd business. From April through until December is our busiest time with Creagh Concrete Products. The computer business stays pretty stable all year round," says managing director Liam Reid.
This diverse mix of products becomes even more widespread with the addition of parcel trunk ing.
Runs from Birmingham to Belfast provide the staple diet of return loads, following daily outward excursions to the UK mainland carrying goods made in Ireland.
Reid Transport was set up by Liam and brother Shaun in 1987. The initial idea was to move their own cattle to slaughter, rather than employ other operators.
Liam did the driving in a 17-tonne rigid, while Shaun concentrated on agricultural contract work. Work on the farm began to take more of a back seat when the natural enthusiasm for trucks and transport took hold.
"A friend named Tommy Blemmings ran Westland Freight in Cookstown. He encouraged me to get involved with his traction work, pulling trailers on a Unipork contract," Liam says.
This was the opportunity to get into heavier haulage. He relished the idea of being behind the wheel of an articulated unit and trailer.
Improved rate
It also helped that the rate for that kind of work had recently improved. The traction business developed until Reid Transport had
five units. By this time, the company had progressed to delivering into regional distribution centres for high street retailers such as J Sainsbury. "We used to collect from the coldstore in Cookstown, call in to the operator's depot in Liverpool, before delivering to any one of the Sainsbury depots in the UK."
But five years after getting into the business the rates were not much better than when the company had been attracted into the sector and Liam's mentor, Tommy Blemmings, had just sold his stake to another operator. It seemed like time for a change.
With Liam now out of the cab and behind the desk, the search for alternative business became serious.
Having always been responsible for its own return loads, Reid Transport had established additional sources of revenue. Close relationships with two parcels operators — Nexday of Belfast and Parcels to Ireland of Rugby — have proved long lived. Both have hubs in Birmingham and Belfast.
So while rates on the traction side were poor. business survived undynamically until the big break came in 1995.
"A relative at Creagh Concrete Products told us there was a need for a haulier at the company!'
Guaranteed service
Creagh makes industrial-sized concrete slabs, often used in building car parks. "They wanted someone to guarantee a service because all of the work involves cranes. Whenever you deliver, there is always a crane booked to lift off the load at a cost of between £150 and £200 an hour. You've got to be there on time to get maximum use of the equipment," says Liam Reid.
The prospect was a trifle different from traction work, not least because the company had no trailers. However, Liam noticed there were also similarities. He thought the company had learnt sufficiently from the practice of timed collection and deliveries on Sainsbury work and the delivery of fresh mushrooms to market. He reckoned he could produce a corn
petitive quote that might win the contract. He could and it did.
The first step was to buy the right kind of trailer. "The reason we didn't want to use flats was because the money from return loads wasn't so good. We had established a lot of contacts with groupage companies and realised that whenever we used Euroliner trailers, the rates were better."
Built by SDC, the Euroliners feature a slideback roof. This gives access for the overhead cranes to lift off the concrete slabs. The advantage is that the trailers can carry the parcels groupage business on the return load.
There followed a busy two years, during which time the company has added two further contracts. Matbro telescopic loading shovels are manufactured at Dungannon, not an hour away As with so many haulage contracts the world over, a phone call for help to deliver an urgent load one day has led to greater things.
Today, Reid Transport collects three different models from the factory and then stores the finished equipment at its depot. About ten
loads a week —some subcontracted to a regularly used operator on a return trip to the mainland — go out to the Matbro distribution centre at Tetbury in Gloucestershire. Two of the three models can be driven into the back of the Euroliners. The largest model, the 350, goes on the back of a low loader.
As the drivers need to be able to switch from concrete deliveries to plant movements, all of the drivers have to be capable of driving the loading shovels because they are all responsible for loading and unloading. The addition of a third contract with Compaq Computers means there are two drivers who are specialists in their own right.
"We warehouse the computer cabinets and deliver and install them to companies in the north and south of Ireland. For that we use a MercedesBenz 814 curtainsider," says Liam Reid.
Activities
The business activities produce revenue which breaks down to about 10% from computer business, 20% from parcels traffic, 20% plant with about 40% coming from concrete movements.
That leaves a further 10%, which comes from vehicle maintenance.
"We had to build the garage to look after the maintenance of our own vehicles and we've just built things up from there," says Liam Reid.
He refers to contract maintenance work which includes contracts with truck rental operator Dawsonrentals and Irish operator PDL. It has a fleet of up to 70 traction units and 140 reefers, a figure that demonstrates the quality of the facilities in the purpose-built garage.
Since the turn of the year, Shaun has switched over to concentrate more on the transport side of the family business and is now a full partner. The plan is to expand with the addition of more business as Creagh develops its UK market share. Reid Transport hopes to grow with it.
As a result of the switch from traction work two years ago, the company has added some diverse specialisations, which compliment each other and have since trebled its turnover. An odd mix perhaps, but a sound decision nevertheless.
L by Steve McQueen