VANS
17th April 1997
Page 36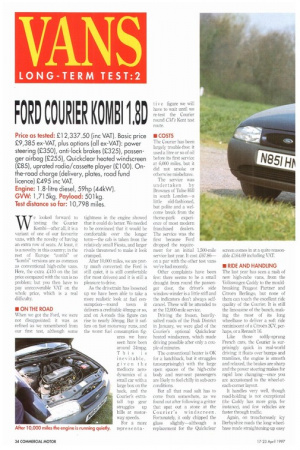 Page 37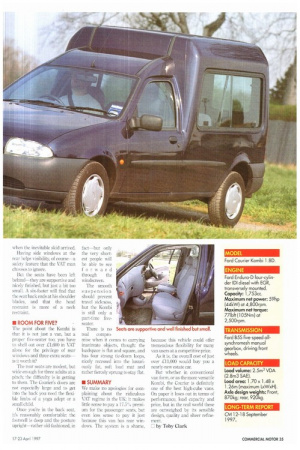 Page 36, 17th April 1997 —
VANS
Close
LONG-TERM TEST:2
FORDOURIERIOMB11.80
Price as tested: 212,337.50 (inc VAT). Basic price £9,385 ex-VAT, plus options (all ex-VAT): power steering (£350), anti-lock brakes (2325), passenger airbag (£255), Quickclear heated windscreen (£85), uprated radio/cassette player (£100). Onthe-road charge (delivery, plates, road fund licence) 2495 inc VAT.
Engine: 1.8-litre diesel, 59hp (44kW).
GVW: 1,715kg. Payload: 501 kg.
Test distance so far: 10,798 miles.
We looked forward to testing the Courier Kombi—after all, it is a variant of one of our favourite vans, with the novelty of having an extra row of seats. At least, it is a novelty in this country; in the rest of Europe "combi" or "kombi" versions are as common as conventional high-cube vans. Here, the extra ,f410 on the list price compared with the van is no problem; but you then have to pay unrecoverable VAT on the whole price, which is a real difficulty.
• ON THE ROAD When we got the Ford, we were not disappointed: it was as refined as we remembered from our first test, although some tightness in the engine showed that it could do better. We needed to be convinced that it would be comfortable over the longer term—the cab is taken from the relatively small Fiesta, and larger rivals threatened to make it look cramped.
After 10,000 miles, we are pretty much converted: the Ford is still quiet, it is still comfortable (for most drivers) and it is still a pleasure to drive.
As the drivetrain has loosened up we have been able to take a more realistic look at fuel consumption—round town it delivers a creditable 40mpg or so, and on A-roads this figure can rise to nearly 50mpg. But it suffers on fast motorway runs, and the worst fuel consumption figures we have seen have been around 34mpg. This is in given the mediocre aerodynamics of a small car with a large box on the back, and the Courier's extratall top gear struggles up hills at motorway speeds.
For a more representa live figure we will have to wait until we re-test the Courier round CM's Kent test route.
• COSTS The Courier has betn largely trouble-free: it used a litre or so of oil before its first service at 6,000 miles, but it did not smoke or otherwise misbehave.
The service was undertaken by Brownes of TuIse Hill in south London—a little old-fashioned, but polite and a welcome break from the theme-park experience of most modern franchised dealers. The service was the first because Ford dropped the requirement for an initial 1,500-mile service last year. It cost £67.86— on a par with the other test vans we've had recently.
Other complaints have been few: there seems to be a small draught from round the passenger door, the driver's side window-winder is a little stiff and the indicators don't always selfcancel. These will be attended to at the 12,000-mile service.
Driving the frozen, heavilysalted roads of the Peak District in January, we were glad of the Courier's optional Quickclear heated windscreen, which made driving possible after only a couple of minutes.
The conventional heater is OK for a hatchback, but it struggles (unsurprisingly) with the large Open spaces of the high-cube body and rear-seat passengers are likely to feel chilly in sub-zero conditions.
But all that road salt has to come from somewhere, as we found out after following a gritter that spat out a stone at the Courier's windscreen. Fortunately, it only chipped the glass slightly—although a replacement for the Quickclear
screen comes in at a quite reasonable £164.69 including VAT.
• RIDE AND HANDLING The last year has seen a rash of new high-cube vans, from the Volkswagen Caddy to the mould breaking Peugeot Partner and Citroen Berlingo, but none of them can touch the excellent ride quality of the Courier. It is still the limousine of the bunch, making the most of its long wheelbase to deliver a soft ride reminiscent of a Citroen 2CV, perhaps, or a Renault 16.
Like those softly-sprung French cars, the Courier is surprisingly quick in real-world driving: it floats over bumps and tramlines, the engine is smooth and relaxed, the brakes are sharp and the power steering makes for rapid lane changing—once you are accustomed to the wheel-ateach-corner layout.
It handles very well, though road-holding is not exceptional (the Caddy has more grip, for instance), and few vehicles are faster through traffic.
Again, on treacherously icy Derbyshire roads the long wheelbase made straightening-up easy when the inevitable skid arrived.
Having side windows at the rear helps visibility, of course—a safety feature that the VAT man chooses to ignore.
But the seats have been left behind—they are supportive and nicely finished, but just a bit too small. A six-footer will find that the seat back ends at his shoulder blades, tricl that the head restraint is more of a neck restraint.
• ROOM FOR FIVE? • The point about the Kombi is that it is not just a van, but a proper five-seater too; you have to shell out over £1,600 in VAT alone for the privilege of rear windows and three extra seats— is it worth it?
The rear seats are modest, but wide enough for three adults at a pinch; the difficulty is in getting to them. The Courier's doors are not especially large and to get into the back you need the flexible limbs of a yoga adept or a small child.
Once you're in the back seat, it's reasonably comfortable: the footwell is deep and the posture upright—rather old-fashioned, in fact—but only the very shortest people will be able to see forward through the windscreen.
The smooth suspension should prevent n-avel sickness, but the Kombi is still only a part-time fiveseater.
There is no real compromise when it comes to carrying inanimate objects, though: the loadspace is flat and square, and has four strong tie-down loops, nicely recessed into the luxuriously fat, soft load mat and rather fiercely sprung to stav flat.
• SUMMARY We make no apologies for complaining about the ridiculous VAT regime in the UK: it makes little sense to pay a 17.5% premium for the passenger seats, but even less sense to pay it just because this van has rear windows. The system is a shame, because this vehicle could offer tremendous flexibility for many van users at a competitive price.
As it is, the overall cost of just over £11,000 would buy you a nearly-new estate car.
But whether in conventional van form, or as the more versatile Kombi, the Courier is definitely one of the best high-cube vans. On paper it loses out in terms of performance, load capacity and price, but in the real world these are outweighed by its sensible design, quality and sheer refinement.
E by Toby Clark