Sex and booze are not on truck driver's mind
17th April 1997
Page 22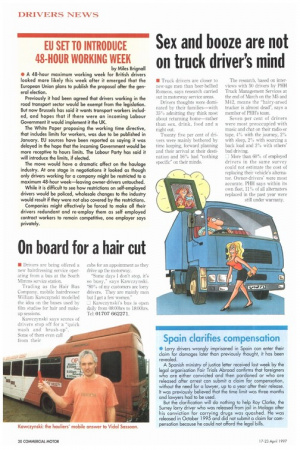 Page 22, 17th April 1997 —
Sex and booze are not on truck driver's mind
Close
• Truck drivers are closer to new-age men than beer-bellied Romeos, says research carried out in motorway service areas.
Drivers thoughts were dominated by their families—with 33% admitting they think most about returning home—rather than sex, drink, food and a night out.
Twenty five per cent of drivers were mainly bothered by time keeping, forward planning and their arrival at their destination and 16% had "nothing specific" on their minds. The research, based on interviews with 50 drivers by PHH Truck Management Services at the end of March on the M5 and M42, means the "hairy-arsed trucker is almost dead", says a member of PT-fl-I's team.
Seven per cent of drivers were most preoccupied with music and chat on their radio or tape, 4% with the journey, 2% with sleep, 2% with sourcing a back load and 2% with others' bad driving.
More than 60% of employed drivers in the same survey could not estimate the cost of replacing their vehicle's alternator. Owner-drivers' were most accurate. PHU says within its own fleet, 11% of all alternators replaced in the past year were still under warranty.