REFINEMENT IN SERVICE BUSES.
17th April 1928
Page 65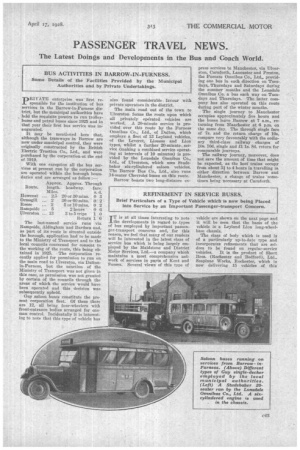 Page 66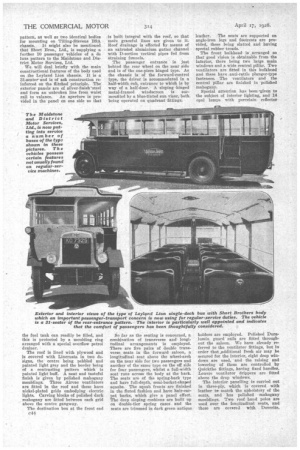 Page 67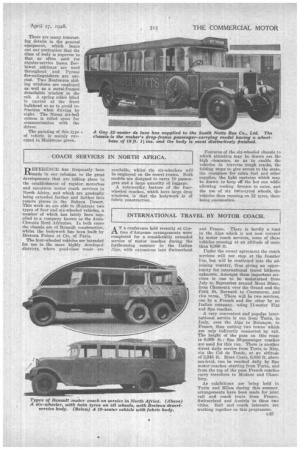 Page 65, 17th April 1928 —
REFINEMENT IN SERVICE BUSES.
Close
Brief Particulars of a Type of Vehicle which is now being Placed into Service by an Important Passenger-transport Concern.
IT is at all times interesting to note the developments in regard to types of bus employed by important passenger-transport concerns and, for this reason, we feel that many of our readers will be interested in the latest class of service bus which is being largely employed by the Maidstone and District Motor Services, Ltd.—a company which maintains a most comprehensive network of services in parts of Kent and Sussex. Several views of this type of
vehicle are shown on the next page and it will be seen that the basis of the vehicle is a Leyland Lion long-wheelbase chassis.
The class of body which is used is of a particularly up-to-date type and incorporates refinements that are seldom to be found on regular-service vehicles. It is the product of Short Bros. (Rochester and Bedford), Ltd., Seaplane Works, Rochester, which is now delivering 15 vehicles of this
pattern, as well as two identical bodies for mounting on Tilling-Stevens DOA chassis. It might also be mentioned that Short Bros., Ltd., is supplying a further 10 passenger vehicles of a de luxe pattern to the Maidstone and District Motor Services, Ltd.
We will deal briefly with the main constructional features of the body used on the Leyland Lion chassis. It is a 31-seater-and is of ash construction reinforced on the flitched principle. The exterior panels are of silver-finish•steel and form an unbroken line from waist rail to valance. An aperture is provided in the panel on one side so that
the fuel tank can readily be filled, and this is protected by a moulding ring arranged with a special overflow petrol drainer.
The roof is lined with plywood and Is covered with Lincrusta in two de'signs, the centre being pebbled and painted light grey and the border being of a contrasting pattern which is painted light buff. A neat and tasteful finish is given by polished mahogany mouldings. Three Airvae ventilators are fitted in the roof and these have nickel-plated grids embodying electric lights. Carving blocks of polished dark mahogany are fitted between each grid above the centre gangway.
The destination box at the front end c44 is built integral with the roof, so that more graceful lines are given to it. Roof drainage is effected by means of an extruded aluminium gutter channel with D-section vertical pipes fed from straining funnels.
The passenger entrance is just behind the rear wheel on the near side and is of the one-piece hinged type. As the chassis is of the forward-control type, the driver is accommodated in a half-width cab, entrance to which is by way of a half-door. A sloping -hinged metal-framed windscreen is cur'flaunted by a blue-tinted sun visor, both being operated on quadrant fittings.
So far as the seating is concerned, a combination of transverse and longitudinal arrangements is employed. There are five pairs of double transverse seats in the forward saloon, a longitudinal seat above the wheel-arch on the near side for two passengers and another of the same type on the off side for four passengers, whilst a full-width seat runs across the body at the back. The seats are of the spring-back type and have full-depth, semi-bucket-shaped squabs. The squab fronts are finished in the fluted fashion and have hair-carpet backs, which give a panel effect. The deep sloping cushions are built up on double-tier spring cases and the seats are trimmed in dark green antique
leather. The seats are supported on angle-iron .and footrests are provided, these being slatted and having special rubber treads.
The front bulkhead is arranged so that good vision is obtainable from the interior, there being two large main windows and a wide central pillar. Two ventilators are fitted in this bulkhead and these have , anti-rattle plunger-type fasteners. The ventilators and the central pillar are finished in polished mahogany.
Special attention has been -given to the subject of interior lighting, and 14 opal lamps with porcelain reflector holders are employed. Polished Duralumin guard rails are fitted throughout the saloon. We have already referred to the ventilator fittings, but in order that "additional fresh air may be secured for the interior, eight drop windows are used, and the raising and lowering of these are controlled by Quicktho fittings, having fixed handles. Louvre ventilator (kippers are fitted above the drop windows.
The interior panelling is carried out in three-ply, which is covered with leather te match the upholstery of the seats, and has polished mahogany mouldings. Two roof hand poles are used over the longitudinal seats, and these are covered with Doverite. There are many interesting details in the general equipment, which bears out our contention that the class of body is superior to that so often used for regular-service buses. Beelawat ashtrays are used throughout and Pyrene fire-extinguishers are cartied, Two Beaton son sliding windows are employed as well s a metal-framed detachable window in the cab. A spring roller blind is carried at the front bulkhead so as to avoid refraction when driving by night. The Noma air-bell system is relied upon for communication with the driver.
The painting of this type of vehicle is mainly executed in Maidstone green.