ONE HEARS
17th April 1928
Page 41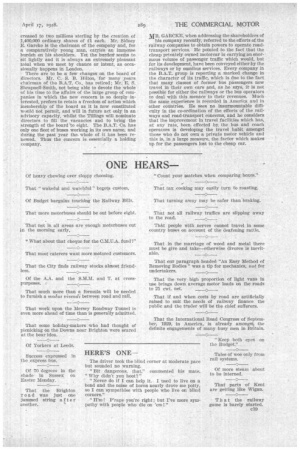 Page 41, 17th April 1928 —
ONE HEARS
Close
Of heavy chewing over sloppy choosing.
That "wakeful and watchful" begets custom. Of Budget bargains touching the Railway Bills. That more motorbuses should be out before eight.
That not in all areas are enough motorbuses out in the morning early, " What about that cheque for the C.M.I.T.A. fund?"
That most caterers want more motored customers.
That the City finds railway stocks almost friendless.
Of the A.A. and the S.M.M. and T. at crosspurposes.
That much more than a formula will be needed to furnish a modus vivendi between road and rail.
That work upon the Mersey Roadway Tunnel I is even more ahead of time than is generally admitted.
That some holiday-makers who had thought of picnicking on the Downs near Brighton were scared at the bear idea.
Of Yorkers at Leeds.
Success expressed in the .express bus.
Of 70 degrees in the shade in Sussex on Easter Monday.
That the Brighton road was just one jammed String 'after another.
"Count your matches when comparing boxes." That tax cooking may easily turn to roasting. That turning away may be safer than braking.
That not all railway traffics are slipping away to the road.
That people with nerves cannot travel in some country buses on account of the deafening rattle.
That in the marriage of wood and metal there must be give and take—otherwise divorce is inevitable.
That our paragraph headed "An Easy Method of Removing Bodies" was a tip for mechanics, 210 for undertakers.
That the very high proportion of light vans in use brings down average motor loads on the roads to 25 cwt, net.
That if and when costs by road are artificially raised to suit the needs of railway finance the public and the trader will be the chief sufferers.
That the International Road Congress of September, 1929, in America, is already amongst the definite engagements of many busy men in Britain.
"Keep both eyes on the Budget."
Tales of woe only from rail systems. • Of more steam about to be interned.
That parts of Kent are getting like Wigan.
That the railway game is barely started.