When Driver Need Not Give His Name
16th September 1955
Page 63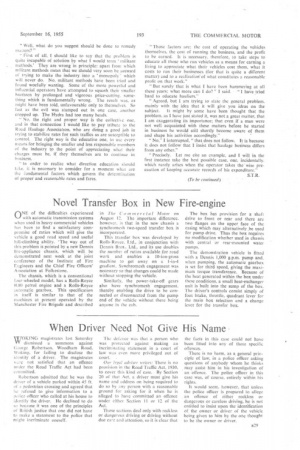 Page 63, 16th September 1955 —
When Driver Need Not Give His Name
Close
WOKING magistrates last Saturday VI( dismissed a summons against George Robertson, Woodburn Road, Woking, for failing to disclose the idcntity of a driver. The magistrates vv,..:rc not satisfied that an offence under the Road Traffic Act had been emmuitted.
Robertson admitted that he was the driver of a vehicle narked within 45 ft. of a pedestrian crossing and agreed that he refused to give information to a police officer who called at his house to identify the driver. He declined to do so because it was one of the principles of British justice that one did not have to make a statement to the police that rniuht incriminate oneself. The defence was that a person who was protected against making an incriminating statement in a court of law was even more privileged out of court.
Our legal adviser writes: There is no provision in the Road Traffic Act, 1930, to cover this kind of case. By Section 20 of that Act, a driver must give his name and address on being required to do so by any person with a reasonable ground for asking for it when he is alleged to have committed an offence under either Section 11 or 12 of the Act.
Those sections deal only with reckless or dangerous driving or driving without due care and attention, so it is clear that the facts in this case could not have been fitted into any of those specific offences.
There is no harm, as a general principle of law, in a police ofFtcer asking questions of anybody whom he thinks may assist him in his investigation of an offence. The police officer in this case was, of course, entirely within his rights.
It would seem, however, that unless the police officer is prepared to allege an offence of either reckless or dangerous or careless driving, he is not entitled to insist unon the identification of the owner or driver of the vehicle being given to him by the one thought to be the owner or driver.