Novel Transfer Box in New Fire-engine
16th September 1955
Page 63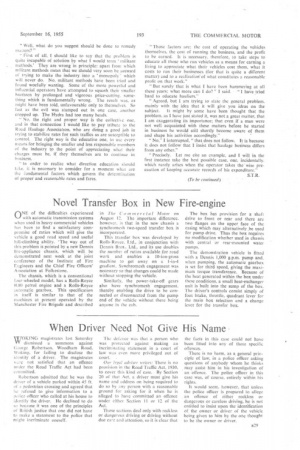 Page 63, 16th September 1955 —
Novel Transfer Box in New Fire-engine
Close
ONE of the difficulties experienced with automatic transmission systems when used in heavy commercial vehicles has been to find a satisfactory compromise of ratios which will give the vehicle a good road speed and useful hill-climbing ability. The way out of this problem is pointed by a new Dennis fire-appliance chassis, which will, be demonstrated next week at the joint conference of the Institute of Fire Engineers and the Chief Fire Officers' Association at Folkestone.
The chassis, which is a conventional four-wheeled model, has a Rolls-Royce B.80 petrol engine and a Rolls-Royce automatic gearbox. This specification in itself is similar to that of the machines at present operated by the Manchester Fire Brigade and described
in The Commercial Motor on Angus! 12. The important difference. however, is that in the new chassis a synchromesh two-speed transfer box is incorporated.
This transfer box was developed by Rolls-Royce, Ltd., in conjunction with Dennis Bros., Ltd., and its use doubles the number of ratios available for road work and enables a 10-ion-gross machine to get away on a 1-in-4 gradient. Synchromesh engagement was necessary so that changes could be made without stopping the vehicle.
Similarly, the power-take-off gears also have synchromesh engagement, thereby enabling the drive to he connected or disconnected from the pump end of the vehicle without there being anyone in the cab. The box has provision for a shaft drive to front or rear and there are two flanges on the upper face of the casing which may alternatively be used for pump drive. Thus the box requires no modification whether used in chassis with central or rear-mounted water pumps.
The demonstration vehicle is fitted with a Dennis 1,000 g.p.m. pump and, when pumping, the automatic gearbox is set for third speed, giving the maximum torque transference. Because of the heat generated within the box under these conditions, a small heat-exchanger unit is built into the sump of the box. The driver's controls consist simply of foot brake, throttle, quadrant lever for the main box selection and a change lever for the transfer box.