Traffic 38% Higher : Lorries Double
16th September 1955
Page 41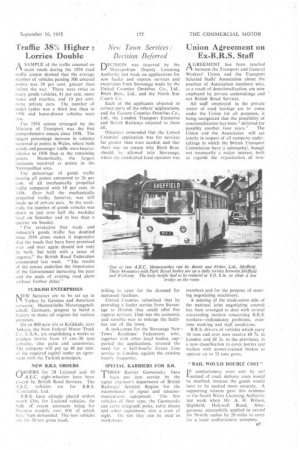 Page 41, 16th September 1955 —
Traffic 38% Higher : Lorries Double
Close
A SAMPLE of the traffic counted on tA main roads during the 1954 road traffic census showed that the average number of vehicles passing 300 selected points was 38 per cent. greater than before the war. There were twice as many goods vehicles, 41 per cent. more buses and coaches, and 19 per cent. more private cars. The number of pedal cycles was a third less than in 193K and horse-drawn vehicles were few.
.[he 1954 census arranged by the Ministry of Transport was the first comprehensive census since 1938. The largest percentage increase in vehicles occurred at points in Wales, where both goods and passenger traffic were heavier relative to 1938 than at the remaining points. Numerically, the largest increases occurred at points in the Metropolitan area.
The percentage of goods traffic passing all points amounted to 26 per of all mechanically propelled traffic compared with ,18 per cent, in 938. Over half the mechanically propelled traffic, however, was 'still made up of private cars. At the weekands, the number of goods vehicles was down to just over half the weekday level on Saturday and to less than a quarter on Sunday.
" The revelation that trade and industry's goods traffic' has doubled since 1939 alone makes it imperative that the roads that have been promised over and over again should not only he built, but built with a sense of urgency," the British Road Federation commented last week. " The results of the census underline the importance of the Government increasing the pace and the scale of existing road plans ,Aithout further delay."
TURKISH ENTERPRISES
NE'factories are to be set up in Turkey by German and American concerns. Hanseatische Motorengesellschaft, Germany, propose to build a factory to make oil engines for various purposes.
On an 800-acre site at Kirikkale, near Ankara, the New Federal Motor Truck Co.. U.S.A.. are establishing a works to produce lorries from 15 cwt.-30 tons capacity, also parts and accessories. The company will put up 40 per cent. of the required capital under an agreement with the Turkish principals.
NEW B.R.S. ORDERS
nRDERS for 28 Leyland and 50
A.E.C. eight-wheelers have been placed by British Road Services. The A.E.C. vehicles are for B.R.S. iCorttracts), Ltd.
B.R.S. have already placed orders worth £3m. for Leyland vehicles, the hulk of recent contracts being for Octopus models, over 600 of which have been demanded. The new vehicles arc for 24-ton gross, loads.